March Madness Is a Blood Bath for Fantasy Sports Rookies
At the office, you can guess a bracket and win. Online, it's a feeding frenzy for the pros.
By and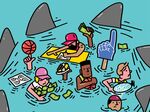 Every year around this time, tens of millions of Americans who otherwise pay little or no attention to sports—let alone college basketball—participate in the workplace ritual of filling out a March Madness bracket and entering a pool. It's usually a low-stress, low-stakes affair: Guess how far each school will go in the 68-team, single-elimination NCAA men's college basketball tournament, put $10 into the pot, and watch Larry in accounts payable clean up. There's no reliable estimate of how much money is wagered this way annually, but best guesses put it in the billions of dollars.
In the past half-decade, FanDuel and DraftKings, the two besieged leaders in daily fantasy sports, have tried to piggyback on the tourney's popularity. FanDuel in 2015 put forth a "Survive the Madness" challenge, paying $40,000 to the winner. DraftKings promoted a "March Mania" game with a $20,000 grand prize. This year the FanDuel champion will earn $50,000. (DraftKings didn't respond to requests for comment on its plans.)
In theory, these contests scratch the same itch as an office pool. The casual fan can plunk down a little dough, hazard guesses about who will play well, and maybe get lucky; win or lose, they've found a reason to care about matchups between colleges they may not be able to locate on a map. In fact, the typical March Madness office pool resembles a daily fantasy contest the same way a pickup basketball game resembles a Final Four duel between the Duke Blue Devils and the Kentucky Wildcats. Larry at work won because he thought Maryland's terrapin mascot was cuter than Wisconsin's badger. But in daily fantasy, players such as sox22 don't let that happen.
Daily fantasy obsessives at FanDuel, DraftKings, and other sites compete to see who can create the best imaginary lineup of real athletes playing real games. Their screen names, known as handles, are boasts (CaptinClutch), make sports references (1908cubs), or descend into junior high humor (dingleberry707). In college basketball, sox22's handle carries more weight than any other.
For fantasy mortals, sox22 is an enigma and a legend. On many nights during the season, he—the gender of the pronoun seems safe to assume—spends thousands of dollars entering contests at FanDuel and DraftKings and wins often enough to leave his rivals stunned, like victims of a buzzer-beater. (One recent tweet from @BretSkinner showed a stock image of someone forking over $20 bills with the caption "when you find out you're playing #sox22 on #draftkings.")
"The greatest of all time, the Tom Brady of the daily fantasy sports college basketball world," Chris Verrill, a 25-year-old fantasy fanatic, said of sox22 in an e-mail. For all Verrill knows, sox22 could be the New England Patriots quarterback. Unlike many elite competitors in this world, he leaves scant digital trace of his real-life self. He has no visible presence on Twitter, where many players go to brag, complain, trade tips, and gossip. And he hasn't registered his handle at RotoGrinders, a popular online daily fantasy forum that ranks its members. None of the people we spoke with said they knew his name. Only sox22 knows how often he wins.
As a whole, the fantasy economy tilts heavily toward the sox22s, the handful of sophisticated players known as sharks. (Their victims are "fish"; if fish lose a lot of money, they become "whales.") An oft-cited study McKinsey published last September found that in three months of the 2015 MLB season, 91 percent of profits went to 1.3 percent of fantasy baseball participants. Sharks, usually men in their 20s or 30s, spend upwards of 20 hours a week preparing their lineups, often with the aid of advanced statistical models.
Compared with, say, the NBA, college basketball is a fantasy backwater. According to Eilers & Krejcik Gaming, a research firm, it likely makes up less than 5 percent of overall activity for major daily fantasy operators. Its most fervent enthusiasts cherish the small-town feel of their digital neighborhood. "It's nice to know many of the players you're competing against, so you can congratulate somebody if they get a huge win," says one, who asked to be identified only by his screen name, eforsty.

Jonathan Schiller, the unofficial mayor of the community, estimates 10 to 15 serious guys dominate college basketball's daily tournaments. A 28-year-old who lives on the outskirts of Detroit and has worked recently as a parole case manager, Schiller writes an advice column on college basketball at RotoGrinders. He thinks he'll make $80,000 to $100,000 this season (which started in mid-November), about double what he made last year. Like other college fantasy players, Schiller doesn't enter many contests in other sports. He says what he does feels like seasonal work. "I'm trying to get into data analytics, a data-science job," he says of his long-term career plans.
Becoming a college basketball shark requires special dedication. Division I of the NCAA includes 351 basketball teams, compared with just 30 in the NBA. And there's less information available about college athletes. "So many schools, so many players, so many backups, and you always get new freshmen every year," says Matt Kern, a 27-year-old banker in Sarasota, Fla., who says he netted $10,000 to $15,000 playing fantasy college basketball last year.
Kern's weekly routine begins with checking the Las Vegas betting lines for games expected to be close. He avoids picking players from lopsided matchups, because the starters often get benched early, limiting their chance to pile up stats. Verrill, who lives in Portland, Maine, and works at a company that runs background checks, says he spends a couple of hours a day on Kenpom.com, a database of statistics and projections maintained by college hoops junkie Ken Pomeroy.
Like everyone else in daily fantasy, Verrill is hunting for "sleepers." The contests involve selecting players from a site's menu of options, with each one assigned a price. Generally, contestants have to stay below a spending cap in assembling their roster, so the skill comes in finding unsung, undervalued players. Sox22 finds them better than anybody. Take Vitto Brown, a little-known junior forward for the University of Wisconsin. On a Wednesday in February, sox22 picked him in a FanDuel game when only 4.1 percent of other people did. Brown scored a career-high 18 points that night against the University of Nebraska.
For most of the college basketball season, sox22 and other sharks circle one another, passing money back and forth. They also feed on a strange breed of deep-pocketed entrant who can't resist picking rosters loaded with players from their favorite teams. One sentimentalist, whose handle is donhomer, seems to be a University of Maryland alum. This may appear to be a decent strategy to the uninitiated; Maryland is a strong program packed with talent. But because athletes are priced according to their reputations—the better you are, the more you cost—such loyalty creates easy money for more coldblooded players who seek only the most efficient performers.

Around the NBA All-Star break in mid-February, things start changing. Pro basketball fans get itchy during the layoff, and entering a few college basketball contests seems a logical alternative. Then, with the NCAA tournament, comes the real feeding frenzy, as office workers look to amplify the fun of filling out a bracket. "That's my favorite time to play," Kern says. "You get a lot of those fish in there." He says he made at least half of last year's winnings in March. Schiller and others say their best streaks came during the 2015 tournament. They say 2016 will be even bigger.
That's as far ahead as they're willing to look. The young industry, born of a carve-out in a 2006 federal law that clamped down on online betting, is under scrutiny from state regulators. In New York, which has the largest daily fantasy market, Attorney General Eric Schneiderman has called the contests illegal gambling and is battling in court to end them. (The sites defend themselves by arguing that they offer legal "games of skill.") Several other states are considering more regulation. Laws already on the books have kept operators out of six states. The NCAA, for its part, has tried to distance itself from the industry. Last summer the association asked sites to stop offering contests based on its games, saying the practice was "inconsistent with our values, bylaws, rules, and interpretations regarding sports wagering." In the fall it banned daily fantasy sites from TV advertising during its championship events.
The controversy hasn't stopped the sites, but there's widespread fear that the industry might collapse the way online poker did after a federal crackdown in 2011. Kern says he withdraws his money immediately after every win. Verrill, who kicks in up to $5,000 nightly, says he could live comfortably for the next year with what he's made so far this season, but he isn't counting on that cash flow. "I was really considering quitting my job and just going full-time daily fantasy," he says. "But it seems like too much of a risk right now."
If the nightmare scenario plays out and the sites are shut down, fantasy castaways will continue to sing the praises of sox22 in chat rooms of the future. We thought we'd found him at one point, when his handle appeared in the Twitter bio of a frequent competitor, but it turned out to be an inside joke playing on sox22's legendary status. Kern, for his part, suspects that sox22 isn't a person, but people. "I think you've got 5, 10, 15, 20 guys pitching in," he says. In this theory, the sox22 syndicate uses algorithms and computer scripts to generate lineups, and it pools resources and brainpower to chase bigger profits. Schiller doesn't buy it. "I do know that someone spoke to him at the DraftKings event for football," he says. "They said he was a nice guy—and a real person."
Before it's here, it's on the Bloomberg Terminal.
LEARN MORE