Manhattan Luxury Rents Slide as Condo Buyers Seek Tenants
by
Buyers at new towers add to supply by listing homes for rent

Median luxury rent fell 4.2% in February to $8,000 a month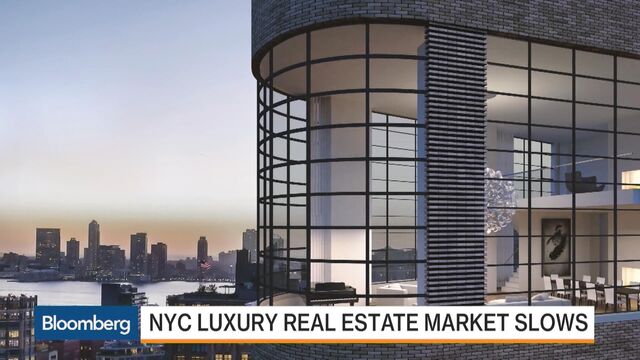 At One Riverside Park, a new luxury-condo tower on Manhattan's Upper West Side, a never-lived-in four-bedroom apartment is available for rent at $22,995 a month -- about $2,000 less than the owner was seeking in January.
The 2,830-square-foot (260-square-meter) dwelling, with floor-to-ceiling windows and panoramic views of the Hudson River, has competition for tenants. Forty-five percent of the 161 units that sold in the building have been put up for rent, according to an analysis by listings website StreetEasy.com.
A condo-development boom that added thousands of luxury homes to the Manhattan market is benefiting renters willing to pay up for high-end accommodations. Buyers -- in many cases out-of-town investors -- are taking possession of their new apartments and seeking to become landlords. That's swelling the number of upscale rentals available and pushing down leasing costs for wealthy tenants.
"Luxury sales activity in Manhattan has brought more luxury rentals," said Jonathan Miller, president of New York-based appraiser Miller Samuel Inc. "It's the hidden supply entering the market."
The median rent for a Manhattan luxury apartment -- defined as the top 10 percent of the market -- fell 4.2 percent in February from a year earlier to $8,000 a month, Miller Samuel and brokerage Douglas Elliman said in a report Thursday. It was the seventh time in the past year that prices for the borough's costliest rentals were either flat or declined.

In contrast, the non-luxury rental market, bolstered by job growth and demand from those who still can't afford to buy, had 23 straight months of annual rent growth before dropping 0.4 percent in February to a median of $3,235.
"It's softer at the top and that's distorting the perception of the market's performance," Miller said. "The balance of the market is faring better than the luxury market."
Investor Purchases
Luxury condos have attracted buyers from outside of Manhattan who have no intention of living in them, and the homes are rented out to defray the costs, Miller said. After London, New York is the most important city to ultra-wealthy investors, who view real estate there as a safe haven for cash, according to the 2016 Wealth Report by brokerage Knight Frank.
Of the 1,522 developer sales recorded last year in Manhattan's newly constructed buildings, 559 -- about 37 percent -- were later listed for rent, according to StreetEasy. Buildings with some of the highest condo-to-rental rates include Zeckendorf Development LLC's 50 United Nations Plaza, where 44 percent of the 39 apartments that sold last year have been listed for lease, StreetEasy data show.
At 93 Worth, a new condo building in Tribeca, 56 percent of the units sold by the developer became rentals. For Midtown's Baccarat Hotel & Residences, 43 percent of the residences that sold were up for lease, according to the StreetEasy analysis.
The condos also have competition from traditional rental towers built by multifamily developers. This year, more than 6,700 newly constructed apartments will be listed for rent, the most since 2005, according to data from the new-development research division of Citi Habitats. Most of those units will be priced in the luxury tier of the market, the brokerage said in December.
"The rental market at the luxury end is seeing the same kind of trend that the sales market is seeing: a big amount of supply and perhaps some weakening demand," said Alan Lightfeldt, a data scientist with StreetEasy. "Accordingly, prices are beginning to fall."
Equity Residential, the largest publicly traded apartment landlord, said last month that its larger two- and three-bedroom units in Manhattan have become "more difficult to lease," as competition mounts from a surge of luxury supply. The company projected that rents on newly signed apartment leases at its west side properties -- which include listings such as a three-bedroom for $12,350 a month -- would be flat this year.
Identical Condo
The effects of oversupply are evident in buildings such as One Riverside Park, a 35-story tower on 62nd Street built by Extell Development Co. The owner of the condo seeking $22,995 a month bought the 11th-floor home in October for $6.84 million. An identical unit on the 12th floor also is for rent, at $20,000 a month. That's 20 percent less than the $25,000 the owner sought in November.
At 50 United Nations Plaza, a Norman Foster-designed tower across from the UN Secretariat, the owner of a newly completed three-bedroom home is offering a "special opportunity" to rent the apartment, which includes the use of two parking spaces, according to StreetEasy. The 3,004-square-foot condo was originally listed for rent for $30,000 a month in May. After several price cuts, it's now being offered for $21,000.
Recently built condos are often large and full-floor units -- a rental category that is relatively new to the market and untested, said Yuval Greenblatt, who oversees sales and rentals in New York City for Douglas Elliman. As closings begin at other high-profile condos, such as 56 Leonard and the Four Seasons Residences downtown, at 30 Park Place, his brokers are monitoring how many of them will return as rentals.
"You will start to see more units priced at $50-, 75-, 100,000 a month," Greenblatt said. "It's unprecedented in the sense that the price points will be at extremely high levels."
Before it's here, it's on the Bloomberg Terminal.
LEARN MORE