Utility Westar Energy Said to Mull Options Including Sale
by , , and
Topeka-based company said to be talking to potential advisers

CEO said last year Westar was more likely seller than buyer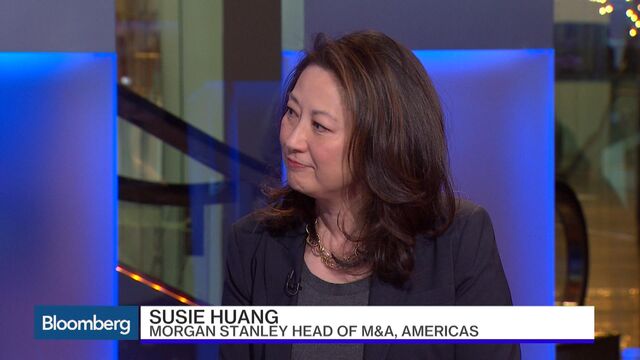 Westar Energy Inc., the biggest electric utility in Kansas, is in the early stages of exploring strategic options that could lead to a sale, according to people familiar with the matter, amid consolidation in the U.S. utilities industry.
The Topeka-based company is talking with potential financial advisers as it evaluates options, said the people, who asked not to be identified because the matter is private. Several possible buyers have been contacted to gauge interest in Westar, one of the people said. Westar hasn't yet formally hired an adviser and may still decide to remain independent, the people said.
Westar's rose as much as 10 percent in New York after being temporarily halted. Shares closed up 6.4 percent at $46.90, giving the company a market value of about $6.6 billion.
A spokeswoman for Westar said the company doesn't comment on merger and acquisition activity.
The potential sale comes amid a boom in utilities deal-making, as power companies grappling with flat electricity demand and rising costs seek growth via acquisitions. Canadian utilities Fortis Inc. and Algonquin Power & Utilities Corp. agreed to buy two U.S. utilities on the same day last month.
Westar operates in a single state so regulatory approvals might not be as complicated as they are with a utility deal like Exelon Corp.'s proposed acquisition of Pepco Holdings Inc., which requires multiple state approvals, said Stacy Nemeroff, an analyst for Bloomberg Intelligence.
Westar's coal and nuclear exposure distinguishes it from other recent utility transactions and might limit the group of prospective buyers that would consider such an acquisition, Nemeroff said.
Westar delivers power to about 700,000 customers in Kansas and owns power generators with a total capacity of about 7,000 megawatts, according to its website. Westar Chief Executive Mark Ruelle fanned takeover speculation in November, when he indicated it would be open to a sale.
"In the context of M&A, given our relative size, we don't really perceive ourselves likely to be a buyer, were there a consolidation," he said in a conference call with analysts in November discussing the company's third-quarter results, according to a transcript compiled by Bloomberg. "I think we would be more likely to see ourselves [as a] seller than a buyer."
Before it's here, it's on the Bloomberg Terminal.
LEARN MORE