Modi's Budget Promises May Give Companies Room to Fix Balance Sheets
by
Axis says top-rated companies `find it easier' to refinance

LIC among issuers as sales rise 31% in first 10 days of March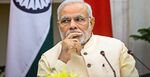 Prime Minister Narendra Modi's vows to fix government finances may also be creating room for Indian companies to repair their balance sheets.
Mumbai-based LIC Housing Finance Ltd. is among companies that have sliced borrowing costs since Feb. 29, when Modi's government said it will cut the budget gap to the smallest since 2008. It sold bonds this week that mature in 2019 with a 8.73 percent coupon, down from the 9.16 percent weighted average fixed coupon on its outstanding securities. Rupee note sales by companies have risen to at least 87 billion rupees ($1.3 billion) in the first 10 days of March, up 31 percent from the last 10 days in February.
Modi's government vowed to narrow the deficit to 3.5 percent of gross domestic product in the year starting April 1, sparking speculation that the central bank may cut interest rates further as a reward for fiscal prudence. The government also said India's state-run Life Insurance Corp. will set up a fund that will help improve credit ratings of bonds sold by infrastructure firms and facilitate long-term investments.
"As growth and investments pick up pace in the economy, more companies will look to borrow from the bond market," said Shashi Kant Rathi, head of investments and capital markets at Axis Bank Ltd., the leading arranger for local currency notes since 2008. "Top-rated companies will find it easier to refinance high-cost debt in the bond market."

While the Reserve Bank of India's four interest-rate cuts in 2015 had helped trim financing costs, they had ticked up recently amid skepticism over Modi's commitment to fiscal consolidation before the budget. Even with this month's rebound, corporate issuance is down 55 percent to about 482 billion rupees this year, data compiled by Bloomberg show.
Yields Decline
Modi, who faces as many as nine state elections in the next fiscal year, also needs lower borrowing costs to deal with about 8 trillion rupees in stressed assets and 5 trillion rupees in debt at power producers. RBI Governor Raghuram Rajan had flagged fiscal discipline as one of the pre-requisites for further easing. The yield on top-rated notes due in 10 years has fallen 5 basis points to a two-week low of 8.62 percent since Feb. 29, when it had reached a 15-month high amid a cash crunch.
Axis's Rathi predicts bond offerings will rally to a record 5 trillion rupees this year, after Modi stuck to his fiscal consolidation plan. Housing Development Finance Corp., the second biggest issuer of rupee bonds last year, has sold five-year notes at a coupon of 8.75 percent since Feb. 29. That's lower than the overall weighted average fixed coupon for its rupee-denominated notes of 8.78 percent.
'Right Direction'
The administration's affirmation on fiscal prudence gives the central bank room to cut interest rates, RBI adviser Ashima Goyal said last week, forecasting a reduction of 25 to 50 basis points this year. It also helped the rupee rally 2.3 percent last week, boosting optimism that a cash crunch will ease at the start of next fiscal year.
While India's forecast growth rate of 7.6 percent for the year ending March is the highest among emerging markets, other indicators suggest economic weakness. Bank credit grew 11.6 percent in the 12 months through Feb. 19, less than the five-year average of 14.7 percent. Total investment as a percentage of gross domestic product hit a 12-year low in 2015, according to the International Monetary Fund.
Regional power retailers such as Jaipur Vidyut Vitran Nigam Ltd. and Uttar Pradesh Power Corp. are trying to replace high-cost debt by issuing bonds, according to circulars on the companies' websites.
"The government's budget is a step in the right direction," said Sandeep Bagla, Mumbai-based associate director at Trust Capital Services India Pvt., the No. 3 arranger of rupee corporate notes last year. "Issuance will get rolling as the economy improves, and companies will look to refinance via bonds."
Before it's here, it's on the Bloomberg Terminal.
LEARN MORE