Grooming Clay: It's Not Just for Face Masks
The newest ingredient in grooming products is as old as dirt.
By and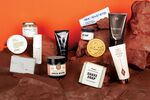 What Is This Stuff, Exactly?
The five most common clays in the beauty aisle
White Kaolin
The main ingredient in porcelain, white kaolin is the gentlest and most-used clay in cosmetics. It won't sap much moisture and still softens and exfoliates.
Bentonite
This magnesium-rich volcanic ash is absorbent and has a positive electrical charge, making it a magnet for dirt and oil. It's especially useful for those with acne.
Rhassoul
Mined from mineral deposits in Morocco's Atlas Mountains, where it's been prized since the eighth century, rhassoul is most often sought for its skin-firming capability.
Fuller's Earth
Once used by textile workers (or "fullers") to clean shorn wool, this is a mixture of clays, including bentonite and kaolin, but especially montmorillonite, which is unique for its mild bleaching property.
French Green
Found mostly near ancient marine beds, it gets its color from iron oxide and decomposed plants. It tightens pores, helps circulation, exfoliates, and is sometimes used to treat arthritis and sore muscles.
12 Products, 12 Uses 
Shower
The V76 detox bar soap is made with a clay known as fuller's earth, which is highly absorbent and has brightening properties, in case you're worried about age spots. $14; v76.com
Style
Cult Aussie brand Evo's Cassius styling clay is perfect if you prefer a matte finish. Beeswax provides the hold, while kaolin clay delivers texture and volume. $30; evohair.com
Condition
Silica in Poppy Austin's rhassoul clay hair and facial mask lifts out impurities and dirt. Mix with water and apply after shampooing. $19.50; poppyaustin.com
Balance
Just a bit of Fresh's Umbrian clay mattifying serum goes a long way. Fuller's earth clay calibrates skin pH, and ginger root and meadowsweet extract slow down oil production. $37; fresh.com
Scrub
Too abrasive for daily use but ideal for a weekly deep clean, Portland General Store's Face Bomb includes naturally antibacterial rhassoul clay to cleanse skin and improve elasticity. $28; portlandgeneralstore.com
Exfoliate
The best-selling product from Japanese skin-care favorite Boscia, the Luminizing black mask goes on like a gel, dries, then peels away in a single sheet, taking dead skin and dirt with it. The addition of French green clay enhances circulation and tightens pores. $34; boscia.com
Cleanse
Malin+Goetz's clarifying clay mask uses kaolin clay, finely ground pumice, witch hazel, and arnica extract to polish and reduce inflammation. $48; malinandgoetz.com
Spot Treat
Plant Apothecary's Zit Zap spot treatment has only three ingredients: kaolin and activated charcoal to draw out oil and dirt, and basil extract to kill bacteria. Just add water and dab onto splotches. $24; plantbrooklyn.com
Cover
Made with kaolin, Tarte's Amazonian clay airbrush foundation is almost weightless. Bonus SPF 15 sunscreen and vitamin A protect the skin from sun and pollutants. $36; tartecosmetics.com
Nourish
Makeup artist Charlotte Tilbury's Goddess skin clay mask mixes kaolin with sweet almond and rose-hip oils to hydrate and frangipani flower extract to cleanse and smooth. $70; nordstrom.com 
Shave
The dirt-eliminating bentonite in Mayron's Goods shave soap lets you skip your usual preshave cleanse. Cinnamon and peppermint essential oils stimulate and soothe; castor oil ensures your razor a smooth glide over face or legs. $15; mayronsgoods.com
Purify
The holy grail for those with oily skin, Tom Ford's intensive purifying mud mask uses bentonite clay. It goes on a dark charcoal color, then turns ashy gray as it dries. $60; tomford.com 
Before it's here, it's on the Bloomberg Terminal.
LEARN MORE