Germany's Three State Elections: What's at Stake for Merkel
by
Look for a surge by anti-immigration Alternative for Germany

Defeats would hand ammunition to Merkel's foes on refugees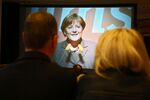 Germans go to the polls in three states on Sunday in the biggest electoral test of Chancellor Angela Merkel's third term. After a campaign dominated by Europe's refugee crisis, her party faces a backlash from voters alienated by her open-borders policy.
What's at stake?
The biggest prize is Baden-Wuerttemberg, a state of 10.7 million on the Swiss border with an economy bigger than Poland's. Home to companies such as Porsche, Daimler AG and HeidelbergCement AG, it's been led by Germany's first Green state premier since 2011 -- and polls suggest Merkel's Christian Democratic Union will struggle to win it back. Also voting are Rhineland-Palatinate, former Chancellor Helmut Kohl's home state to the northwest, and Saxony-Anhalt in the ex-communist east with a jobless rate of almost 11 percent.
How does it look for Merkel's party overall?
Rhineland-Palatinate, known for its wine terraces along the Rhine river as well as BASF SE's chemicals, may see Merkel's party hang on to capture the state from the Social Democrats, who have governed it for 25 years. In Saxony-Anhalt, CDU premier Rainer Haseloff is still within reach of another five years atop a state coalition with the Social Democrats. Here's her problem: Last fall, polls suggested the CDU had a lock on all three states. Since then, the refugee crisis has eroded the party's support across the country, throwing the results into doubt.

Will Merkel quit if the CDU loses votes across the board?
Extremely unlikely, though resistance to her refugee policy would increase within her party bloc, especially from the CDU's Bavarian sister party. In a recent television interview, Merkel emphasized that Germans re-elected her in 2013 for a full four-year term. Though she's grappling with the biggest challenge in a decade as chancellor, no obvious successor is in sight and party rebels who oppose her refugee policy lack a coup leader. In any case, Germany's next federal election is due within 18 months and Merkel is her party's best hope of staying in power.
Will Merkel change course?
She's given no indication of backtracking. While border closings in eastern Europe and the Balkans are helping reduce the influx of refugees from Syria and elsewhere, Merkel remains committed to enlisting Turkey in restricting the flow, better policing of the European Union's outer border in Greece and upholding travel and commerce without passport checks within the EU. On the campaign trail, she's made it clear almost daily that she isn't changing tack. She often cites a poll that showed 90 percent of Germans agree with giving shelter to refugees if they're fleeing war.
So who stands to gain?
Alternative for Germany, or AfD. The anti-immigration party is surging after Germany took in most of the more than 1 million refugees who arrived in the European Union last year. The party's rise is narrowing coalition-building options for Germany's established parties and threatens the status quo nationwide. While polls suggest the AfD will win seats in all three state legislatures, it's poised to do best in Saxony-Anhalt, where a Forsa poll this month put its support at 18 percent.
What's so special about Baden-Wuerttemberg?
It's the most populous state in play on Sunday and boasts Germany's lowest unemployment at 4 percent. The Baden region, which borders France and Switzerland, is home to the CDU's Wolfgang Schaeuble, Merkel's finance minister, architect of Germany's balanced budget and the nation's longest-serving lawmaker. Albert Einstein was born in 1879 in Ulm, across the Danube river from present-day Bavaria. Freiburg, a medieval university town on the edge of the Black Forest, is home to ordoliberalism, a school of economic thought that emphasizes rules and underpins post-Nazi Germany's mix of free market and social welfare.
Do the elections influence national politics directly?
Regional elections determine the makeup of the federal upper house, or Bundesrat, which comprises delegates of the 16 state governments. While Merkel's coalition with the Social Democrats at the national level already lacks a majority in the chamber, opposition support on many projects has helped avoid legislative gridlock. Of the 69 Bundesrat seats, 14 are up for grabs on Sunday. The vagaries of coalition politics in each state make it impossible to predict the impact on the upper chamber.
What's with the double-barrel state names?

Blame the World War II allies, who created new regions after defeating Nazi Germany. For instance, Baden-Wuerttemberg includes the former kingdom of Wuerttemberg in the north and the historic Grand Duchy of Baden to the south. The same slicing and dicing of old regions happened when East and West Germany reunified in 1990, producing names such as Saxony-Anhalt and Mecklenburg-Western Pomerania, where Merkel has her electoral district. Hence the hyphens.
Before it's here, it's on the Bloomberg Terminal.
LEARN MORE