Draghi's Stimulus Effect Fizzles as Euro Rallies to Reverse Drop
By and
ECB president says he sees no need for more interest-rate cuts

Daily price swing is widest since Dec. 3 central-bank meeting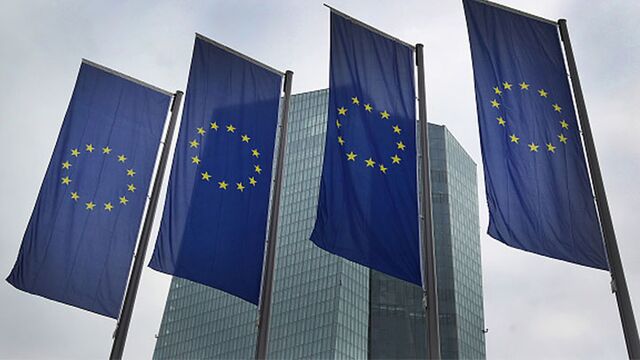 It took less than 90 minutes for the euro to reverse all of the decline sparked by the European Central Bank's package of monetary stimulus.
The shared currency rallied as much as 2 percent after ECB President Mario Draghi said he didn't see any need to cut interest rates further. That erased an initial loss, which was driven by the central bank lowering interest rates and expanding its quantitative-easing plan, exceeding economists' expectations for stimulus measures.

The euro has risen almost 3 percent against the dollar this year, bucking predictions for it to weaken. The shared currency's gain coincided with a weaker greenback, which fell on concern that a global economic slowdown would scupper the Federal Reserve's ability to tighten monetary policy.
Draghi "threw the kitchen sink at the market," said Jennifer Vail, head of fixed-income research in Portland, Oregon, at U.S. Bank Wealth Management, which oversees $125 billion. "Once you hit the press conference, and he alluded to rates not moving down any further, the euro reversed all of the drop. It didn't quite give them the bang for their buck that they were hoping for."
The 19-nation shared currency climbed 1.6 percent to $1.1177 as of 5 p.m. New York time. It earlier swung between a 1.6 percent drop and 2 percent gain, the biggest intraday range since the ECB's last meeting on Dec. 3. The euro rose 1.5 percent to 126.51 yen.
The common currency surged against all but one of its 16 major peers, rallying more than 2 percent against the South African rand, Canadian dollar and Australian dollar.
Trend End
"We don't anticipate it will be necessary to reduce rates further," Draghi said in a news conference after the ECB outlined the measures.
"It was at that exact point that you saw the foreign-exchange market turn around," said David Page, a senior economist at AXA Investment Managers in London, which manages $727 billion. "That stimulus package is leaning further away from negative rates."
The declines in the euro were even more short-lived than losses in the yen sparked when Bank of Japan Governor Haruhiko Kuroda surprised investors by adopting negative interest rates on Jan. 29. That move spurred only a brief drop in the yen, which went on to post its best month since 2008.
The ECB's expanded program included a 10 basis-point cut in its deposit rate to minus 0.4 percent, a surprise drop in the benchmark to zero, a pledge to buy corporate debt as part of 80 billion-euros ($88 billion) of monthly QE purchases -- 20 billion euros more than at the moment -- and four more multi-year lending operations.
Euro Level
"The trend of euro weakness has probably either ended or is very near to its end," James Athey, a money manager at Aberdeen Asset Management Plc in London, which has $428 billion in assets. "The ECB has just demonstrated, and even verbalized, that maybe it's coming to the end of the easy policy options. I'm not surprised to have seen the euro retrace."
While all but one of the 38 economists surveyed by Bloomberg predicted the ECB would cut the deposit rate, none of the 46 economists in a separate survey forecast the change in the main refinancing rate. An increase in QE purchases was also predicted, although the median estimate was for an increase to 75 billion euros a month from 60 billion euros.
Draghi "set up the euro for strength rather than for weakness," said Jurgen Odenius, chief economist in Newark, New Jersey at Prudential Financial Inc.'s fixed-income division, which manages $575 billion. "The market read it correctly."