EU Struggles to Bar Most Refugees With Alternate Routes in Play
by
Austria's damming of Balkan route stirs conflicting reactions

EU-Turkey accord to halt inflow hits legal, practical hurdles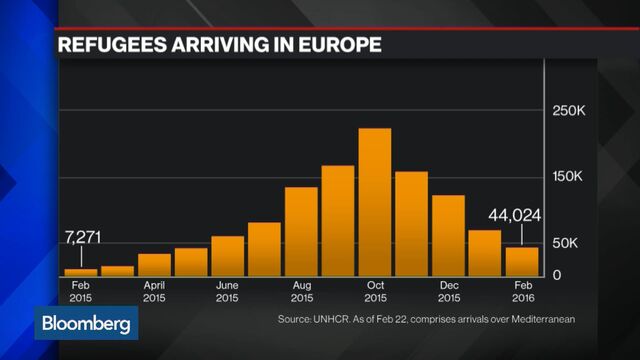 European Union governments gave mixed reactions to the closure of one migrant route, struggled to shut down a second and fretted that people fleeing Middle Eastern wars could slip away to a third.
Europe's attempt to seal its leaky external borders went along with continued internal disputes over which countries will offer new homes to refugees who are eventually judged eligible for political asylum.
"If we really want to stop the deadly and illegal backdoor, we have to open a safe and regular window," EU Home Affairs Commissioner Dimitris Avramopoulos told reporters at a meeting of interior ministers in Brussels on Thursday. "Otherwise we shall see migrants and the ruthless smugglers that are behind them, trying to find new routes."
The shutting of one backdoor -- the western Balkans pathway from Greece toward the Alps and northern Europe -- continued to stir emotions, with Greece stuck caring for thousands stranded on its territory and Austria insisting that the barriers are there for good.
"Uncontrolled migration flows over the Balkans must be a thing of the past," Austrian Interior Minister Johanna Mikl-Leitner said. Greek Migration Policy Minister Ioannis Mouzalas saw "no reason to thank" countries that took "unilateral actions."
With that path blocked, albeit by an Austrian-led move and not a coordinated European one, the interior ministers turned to the legal and practical hurdles of an accord reached in the early hours of Tuesday to dam up the Turkey-to-Greece route further to the south.
One for One
Nearly 857,000 hazarded that journey into Europe last year and 137,000 so far in 2016. Under the accord, Syrian refugees who make it to Greece's islands would be sent back to Turkey and EU governments would match that by rehousing the same number of refugees currently in Turkish camps.
The one-for-one deal drew criticism from human rights defenders. The United Nations High Commissioner for Refugees doubted whether the automatic deportation of refugees back to Turkey is consistent with international law.
While the EU hashed out the legalities, some officials voiced concerns that the walling-off of the seas from Turkey to Greece would lead refugees and the human traffickers who exploit them to map out other ways of getting to Europe.
Italy fears that, as in 2014 and 2015, it could again become a primary port of call. La Stampa newspaper reported estimates that 120,000 to 140,000 migrants might try to sail to Italy, either directly from Turkey or across the Adriatic Sea from Albania.
"It is possible that that route could be opened," Interior Minister Angelino Alfano said. He said Italy is negotiating with Albania "to do all that is possible on prevention of terrorism and of illegal immigration."
Before it's here, it's on the Bloomberg Terminal.
LEARN MORE