Draghi Defines His Era With Stimulus Measures Locked Into Next Decade
by
Lending program can lock in ultra-low rates until next decade

ECB action provides rebuttal to doubts over central bank power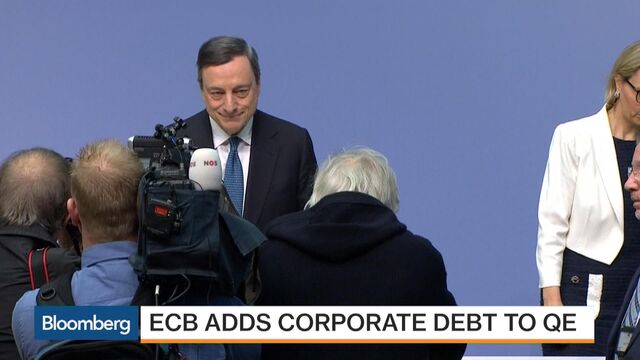 Whether Mario Draghi's latest barrage of stimulus works or not, the European Central Bank president made one thing clear on Thursday: he won't be the one to clean up afterward.
Instead, ultra-low interest rates that might even pay banks to receive loans are now potentially locked in until after the Italian retires in 2019. The ECB's new measures have just entrenched policies designed for crisis times into the next decade.
QuickTake Europe's QE Quandary
In the face of a global debate on whether monetary policy has lost its effectiveness and is even planting the seeds of the next crisis, the ECB has delivered a solid defense of the right and power of central banks to boost growth and inflation at will. The best that can be said for euro-area fiscal policy is that it's not hampering the recovery, so Draghi has underlined that he won't wait for others to act.
"It's hard to see what would happen with the euro-zone economy without the ECB being there, and obviously they could do more of the same and then even more of the same," said Carsten Brzeski, chief economist at ING DiBa in Frankfurt. "The situation could be that just as Draghi became governor to reverse Trichet's rate increase, so it'll be up to Draghi's successor to unwind all the unconventional policies and rate cuts."
Lower Bound
Markets may not have digested the president's message in the way he intended. The euro headed for its strongest week in more than a month against the dollar, and traded at $1.1099 at 11:48 a.m. Frankfurt time on Friday.
The single currency fell before rising again as Draghi spoke on Thursday, with investors confused by his signals for the future path of rates. Even though Draghi has twice claimed since 2014 that ECB rates are at the lower bound, his statement initially contained the advice that indeed they could fall yet further. That signal was then reversed a few moments later when he said it wasn't likely that they'd actually need to go lower.
Thursday's meeting in fact helped shape the entire span of Draghi's term in office, reaching from his immediate reversal of his predecessor's two 2011 rate hikes after he took charge in November that year, through the torturous debate leading up to quantitative easing, and now embedding bank-friendly credit policies until beyond the end.

The president announced cuts to all three of the ECB's rates, bringing the deposit rate to minus 0.4 percent, and a 20 billion-euro ($22 billion) expansion of quantitative easing that for the first time opens the door to purchases of corporate bonds. On top of that, he announced a new four-year loan program that potentially allows banks to be remunerated for taking the ECB's money if they expand credit to the real economy, in a quartet of operations stretching to 2021.
Draghi's policy arc has been in defiance of warnings by monetary conservatives, including those in Germany's Bundesbank since the beginning of his term, up to more recent calls by the Group of 20 nations to shift the burden of growth generation away from monetary policy and toward structural policies or more government investment.
Instead, Draghi sounded resigned when asked about euro-area fiscal policy. That domain spans countries including Spain, France and Italy that are close to or beyond their legal deficit limits, and nations that can afford to spend more -- read Germany -- that have promised voters they won't do so.
Long Horizon
"The measured driver of the economy and the recovery basically remains our monetary policy," he said.
That leaves the ECB as the guarantor of monetary and financial conditions in the euro area until political reality changes -- a role Draghi wasn't willing to admit at his news conference.
He also argued that there's no mechanical link between the 4-year loan program and the benchmark rate, meaning official rates could rise after the central bank's current bond-purchase scheme finishes in 2017 -- albeit in his words "well past the horizon of our net asset purchases." Even then, the ECB will have built up a stock of assets that may take years to unload from its balance sheet.
Thursday's package does push out the period of easy monetary policy and helps banks plan over the long term. Combined with his excursion into new, riskier asset classes, Draghi is showing he has plenty of ammunition left, according to Marchel Alexandrovich, senior European economist at Jefferies International Ltd in London.
"We are optimistic that it will work," Alexandrovich said. "But there's a consistent struggle in the mind of the markets that we're looking at a new normal of lower growth and lower inflation, and the future isn't going to be like what we were used to before."
Before it's here, it's on the Bloomberg Terminal.
LEARN MORE