Draghi Achieves Subtle Market Success With ECB's Focus on Credit
by
Banks, bonds from Greece, Italy and Spain are outperformers

Central bank shows `it is OK to buy risk assets,' Invesco says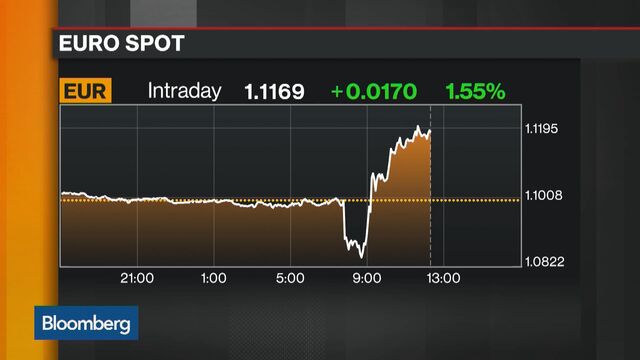 At first glance, European Central Bank President Mario Draghi's expanded stimulus measures looked to have underwhelmed investors.
After Draghi exceeded economists' expectations on Thursday with a package that included interest-rate cuts, more bond purchases and a potential subsidy to lenders, the euro climbed, the Stoxx Europe 600 Index of shares closed lower, and European government bonds gave up earlier gains. The reaction underscores the diminishing returns that central banks are achieving in markets as more investors say monetary stimulus alone can no longer boost the global economy.
Scratch below the surface, however, and, even on Thursday, Draghi can at least point to moderate successes in pushing investors up the risk spectrum after tweaking his approach to stimulus. Banks from Greece, Italy and Spain were the biggest winners in the Stoxx 600, bonds from those nations outperformed their German peers and the cost of insuring European investment-grade corporate debt against default tumbled. That trend became clearer when trading resumed on Friday, as European stocks rebounded and Spanish and Italian bonds jumped.
"There has been a shift away from competitive devaluation and towards credit easing," said Nicholas Wall, money manager in London at Invesco Asset Management, which has $737 billion in assets. "It is a large easing in European financial conditions. This is a message from Draghi to the markets that it is OK to buy risk assets."

Euro-area banks were headed for their best day since 2012 at one point on Thursday, before paring gains. Still, lenders from Europe's so-called periphery were the best performers in the Stoxx 600, even as it ended the day 1.7 percent lower. The index was 1.6 percent higher as of 8:33 a.m in London on Friday.
The ECB's package included a 10 basis-point cut in its deposit rate to minus 0.4 percent, a surprise drop in the benchmark to zero, a pledge to buy corporate debt as part of 80 billion euros ($89 billion) of monthly QE purchases -- 20 billion euros more than at the moment -- and four more multiyear lending operations.

While Italian and Spanish government bonds ended Thursday lower, the additional yield investors demand to hold the securities over German bunds fell to a five-week low. Italy's 10-year yield spread narrowed to 115 basis points and Spain's decreased to 128 basis points, both the least since Feb. 4.
On Friday, Spanish and Italian bonds jumped. The yield on Spain's 10-year securities fell nine basis points, or 0.09 percentage point, to 1.50 percent, while that on similar-maturity Italian bonds fell nine basis points to 1.37 percent.

The package of measures also boosted confidence in European businesses. The Markit iTraxx Europe Index of credit-default swaps on investment-grade companies fell the most since 2011 intraday before ending the day six basis points lower Thursday. The index continued to slide on Friday.
"The tightening in financial market conditions in recent months also motivated the ECB to ease today," said Ned Rumpeltin, European head of currency strategy at Toronto Dominion Bank in London. "The new loan programs effectively becomes a direct subsidy to banks, reducing any potential costs of negative rates by providing much cheaper funding for them. The benefits to investment grade corporate bonds will also now take time to feed through into the more illiquid market."
Before it's here, it's on the Bloomberg Terminal.
LEARN MORE