TransCanada Seen Eyeing Path to U.S. Shale Gas in Deal Talks
by and
Columbia rises as much as 18 percent after report of talks

TransCanada said in November it may consider Marcellus buy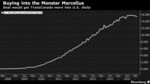 Four months after seeing its Keystone XL oil pipeline plans rebuffed, TransCanada Corp. may be ready to expand again in the U.S. -- this time by buying instead of building lines.
Canada's second-largest pipeline operator has held talks with Columbia Pipeline Group Inc. about a potential takeover, though discussions are now at a standstill and a deal is less likely to happen, according to people familiar with the matter who asked not to be identified as it isn't public. TransCanada said it's in talks about a deal with an unidentified company on Thursday, after the Wall Street Journal reported it's negotiating a potential takeover of Columbia.
The purchase of Columbia would expand Calgary-based TransCanada's U.S. footprint, particularly in the Marcellus and Utica shale plays, giving the company more than 15,000 more miles (24,140 kilometers) of natural gas pipelines as well as underground storage and processing facilities owned and operated by Houston-based Columbia. TransCanada said in November it may consider an acquisition to expand in the Marcellus.

"Directionally, CPGX's assets are in a strategically attractive part of North America where TransCanada does not have a footprint," Robert Kwan, an analyst at RBC Dominion Securities Inc. in Vancouver, wrote in a research note. "The CPGX assets are generally adjacent to some of TransCanada's larger gas assets including ANR and the Canadian Mainline pipes serving Eastern Canada."
Columbia rose 8.5 percent to $21.43 at the close in New York, after earlier rising 18 percent, the most ever. TransCanada fell 3.2 percent to C$47.63 in Toronto.
James Yardley, a spokesman for Columbia, declined to comment in a telephone interview on "market rumors and speculation," citing corporate policy. Mark Cooper, a spokesman for TransCanada, referred comment to the statement issued earlier by the company and declined to comment further, in a phone interview.
No agreement has been reached and there is no assurance the talks will continue or that a deal will be agreed upon, TransCanada said in the statement. The Wall Street Journal reported that a deal could be reached in the coming weeks, citing unidentified people familiar with negotiations. Columbia has a market value of more than $8 billion and TransCanada is valued at about C$34 billion ($25 billion).
Shale Presence

"If there is a deal with TransCanada, it provides Columbia with the funding they need within a much bigger company," said Rob Desai, an analyst at Edward Jones & Co. in Saint Louis, Missouri. Columbia would otherwise need to  tap debt or equity markets to grow beyond 2017, he said. "Their larger projects are still two to three years out."
A deal would also alleviate investor concerns over TransCanada's ability to grow over the long term, given its large pipeline projects have been delayed or blocked, Desai said. Columbia is a high-growth company without big dividend commitments to shareholders, he said.
TransCanada has lately been focusing on small- to medium-sized projects to support its annual dividend growth rate of eight percent to 10 percent through 2020 as it struggles to win political support for big oil pipelines including Keystone XL and Energy East, a C$15.7 billion project to ship oil-sands crude from Alberta to Canada's Atlantic Coast.
The company has had its eye on getting a pipeline into the heart of the Marcellus, which stretches across Pennsylvania and parts of New York, Ohio and West Virginia. Russ Girling, TransCanada's chief executive officer, said in November that the company may consider an acquisition to grow its Marcellus business. It's cheaper for existing players in that region to build capacity, he said.
Mainline Woes
Efforts to expand in the Marcellus come as TransCanada sees dramatically reduced flows on its Mainline gas system from Western Canada into the nation's eastern markets, as vast supplies of cheap gas from Appalachian fields are pushing north. TransCanada has been seeking commercial support for the potential reversal of its Iroquois pipeline, which has been sending Western Canadian gas supplies to the eastern U.S. for more than two decades, as U.S. producers seek new buyers for their fuel in eastern Canada.
The Appalachian region is one of the few places where it's still profitable to invest in gas lines as production has continued to boom there. The Marcellus will yield 17.4 billion cubic feet a day this month, 2 billion more than the U.S. Energy Information Administration had previously forecast. While the number of drilling rigs targeting gas has plunged to zero in fields from North Dakota to Oklahoma, there are still 40 running in the Marcellus and Utica, Baker Hughes Inc. data show.
TransCanada in January opened one of the largest trade appeals ever brought against the U.S., seeking to recoup $15 billion of costs and damages tied to the Obama administration's rejection of the Keystone XL oil pipeline. The company also sued the U.S. government over the denial of the $8 billion cross-border project.
Keystone XL, which would link Canadian crude supplies with U.S. Gulf Coast refineries, is among about $27 billion of large-scale oil and gas pipelines TransCanada is seeking to build over the long term.
Before it's here, it's on the Bloomberg Terminal.
LEARN MORE