Momentum
Clinton Misses Chance to Erase Michigan Loss in Immigration-Heavy Debate
Coming off a huge upset in Michigan, Bernie Sanders turned in a strong performance in a debate with the former secretary of state in Miami, Florida.
By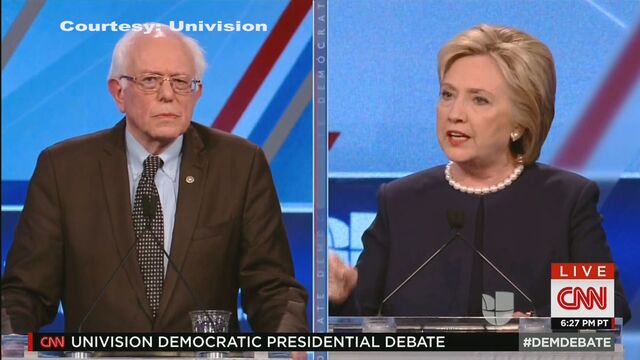 Hillary Clinton had a shot in Wednesday's Democratic debate at retooling her message to white working-class voters a day after they largely rejected her in Michigan, and just in time for a fresh set of primaries March 15.
But she found little traction to steer the conversation back to jobs and the economy under aggressive questioning from debate moderators. And in that way, the event was a lost opportunity ahead of contests in states very much like Michigan, including Ohio and Missouri.
Clinton spent much of the night on the defensive about her trustworthiness and use of private e-mails while serving as secretary of state. At one point, she was pressed to say whether she would drop out if she was indicted over sending and receiving classified information in some e-mails. Exasperated, she said she wouldn't even answer the question.
"I am not a natural politician, in case you haven't noticed," Clinton said at another point. She said her approach is to "do the best I can" and "hope that people see I'm fighting for them." That argument is the underpinning of her whole campaign—I'll work for you—and it's been enough to build a sizable lead in delegates, but not enough to put Sanders away.
She caught a break near the end of the debate when the moderators confronted Sanders. a self-described democratic socialist, about past statements in praise of Cuba's Fidel Castro and Nicaragua's Daniel Ortega, including a 1980s video of Sanders praising Cuba. He didn't back down.
"The key issue is whether the United States should go around overthrowing small, Latin American countries," Sanders said. "I think that was a mistake."
Clinton shot back that Sanders also had previously praised "what he called 'the revolution of values' in Cuba."
"I just couldn't disagree more," Clinton said. "You know, if the values are that you oppress people, you disappear people, you imprison people or even kill people for expressing their opinions, for expressing freedom of speech, that is not the kind of revolution of values that I ever want to see anywhere." That answer might not matter much in the industrial Midwest, but it worked in Miami, at a Univision-Washington Post debate featuring questions in Spanish with English translations. 
Clinton still holds a commanding lead in delegates in the Democratic nominating contest. But her prospects of securing the nomination after next week's contests may be dampened by Sanders' win in Michigan, if he can use that momentum to erode her support in upcoming races next Tuesday in big states including Florida but also Rust Belt states such as Ohio and Illinois. Clinton has enjoyed a significant lead in polls in Florida, and Sanders is trying to make a late push there, and the pro-Cuba video didn't help.
After the debate, Clinton arrived at a bar called the Blue Martini for a party hosted by the Latino Victory Fund, where actress Eva Longoria said on stage, "For me, there is only one candidate who is speaking to us."
Clinton campaign chairman John Podesta said after the debate that the moderators "threw a lot at her and she batted it right back," but that "I would have hoped that there would have been more emphasis in the questions on what we need to do to improve the economy, what we need to do to get jobs growing, what we need to do to invest in small business and clean energy."
Clinton will bore down on different economic themes in her daily events between now and March 15, said communications director Jennifer Palmieri. She'll discuss infrastructure during a stop in Tampa, education in North Carolina and advanced manufacturing, small business and training programs in Missouri and Ohio.
Jeff Weaver, Sanders campaign director, said it will be difficult for Clinton to make up lost ground to Sanders on the issue of trade ahead of the March 15 states after it was viewed as hurting her in Michigan. "It's impossible for her to do because her record is so clear and the contrast between the two candidates is so stark," Weaver said.
Sanders has effectively used his anti-free-trade stance against Clinton, who has been supportive of trade deals but recently came out against the Trans-Pacific Partnership.
Sanders said during the debate that his win in Michigan was seen by some as "one of the major political upsets in modern American history. We have won nine state primaries and caucuses. And I believe that our message of the need for people to stand up and tell corporate America and Wall Street that they cannot have it all is resonating across this country."
On Wednesday night, both rivals promoted their commitments to immigration liberalization that includes pathways to citizenship for undocumented residents. Both they also took stabs at one another's records, with Sanders highlighting Clinton's past support for Obama's deportation policies and resistance to driver's license for undocumented workers. Clinton, in turn, suggested Sanders had stood with anti-immigration activists and highlighted his resistance to guest worker legislation that was part of a proposed immigration reform deal in 2007. Sanders said she was taking his positions out of context and that he had opposed slave-like conditions for guest workers.
Both Democrats pledged Wednesday that if elected they would not deport undocumented children already in the U.S. and went further, saying they did not intend to deport adults unless they have criminal records.
They also took aim at Republican front-runner Donald Trump, who has staked out a tough anti-illegal-immigration position. Sanders said politicians must not "resort to racism and xenophobia and bigotry" like Trump.
"This idea of suddenly, one day or maybe a night, rounding up 11 million people and taking them outside of this country is a vulgar, absurd idea that I would hope very few people in America support," Sanders said.
Asked how her own Senate votes for border fencing between the U.S. and Mexico are different from what Trump is promising, Clinton said, "It's a big difference. I mean first of all, as I understand him, he's talking about a very tall wall."
Riding the audience's laughter, she continued. "Right? A beautiful tall wall, the most beautiful tall wall, better than the Great Wall of China, that would run the entire border, that he would somehow magically get the Mexican government to pay for,"  Clinton said. "It's just fantasy."
—With assistance from Jennifer Epstein and Arit John.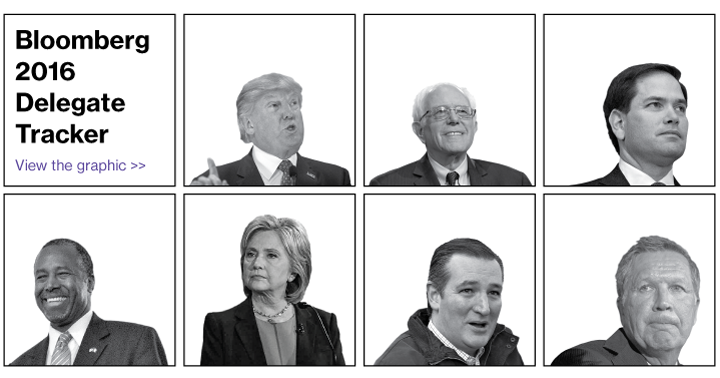 Before it's here, it's on the Bloomberg Terminal.
LEARN MORE