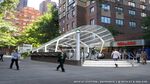 The first phase of New York's Second Avenue subway is scheduled to open at the end of 2016, just a shade under a century since its conception. (If you bet the under on 100 years back in 1920 and have been sweating it out this whole time: congrats!) But if you can't wait nine more months to see how the line will change your commute—or if you still doubt the project will actually be finished on time—then transit-app developer Citymapper has you covered.
Today the company is debuting a new beta navigation tool that lists the Second Avenue subway among its route options for trips that might one day involve the line. "The Second Avenue subway is one of the most infamous, for-so-long hypothetical lines," says Joe Hughes, the head of mobile engineering for Citymapper. "Now that it's finally on the horizon, we thought: What is this going to make possible?"
Let's say you're traveling from the Upper East Side to Carnegie Hall. Punching that trip into Citymapper now offers the following options: a 60-minute walk that burns 247 calories, a 25-minute bike ride that burns 87, a 12-minute Uber that costs $16-22, five subway or subway-bus options ranging from 29 to 34 minutes, and a ride on the Second Avenue train that takes 15 minutes. If transit is your preference here, the new line cuts your trip time in half.

The U.K.-based Citymapper launched a similar forward-looking route tool last summer for London's emerging Crossrail service. (The company's roster of fun features also includes a "Teleporter" route option; estimated travel time: 0 minutes.) New York's forthcoming line will show up under a heading called "The Future: Second Avenue Subway" to distinguish it from existing transit options.
"We also mark it with a disruption so that someone who's visiting New York and unaware of its long history won't try to actually take it," says Hughes.
The new tool assumes Second Avenue trains will come every 10 minutes. Although Phase One service that's set to open in December only runs from 96th Street to 63rd and Lexington, "Future" route options span the full project build—down to the new T-line stop at Hanover Square in Lower Manhattan. Since there's no funding lined up for subsequent phases of the Second Avenue line, the app tool is the best New Yorkers will do for some time.
Any bets on whether the Teleporter gets here first?