business
Canadian Pacific CEO Says He Faces `Selling Job' to Woo CSX
By and
Harrison says neither CSX nor Norfolk Southern see good fit

Probably should have tried `softer' Norfolk approach, he says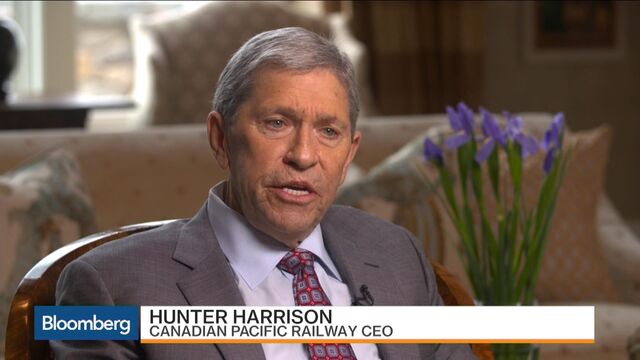 Canadian Pacific Railway Ltd. Chief Executive Officer Hunter Harrison said he faces an uphill battle to convince CSX Corp. -- not just Norfolk Southern Corp. -- of the merits of a merger.
"Neither one of them think they fit well with us. So I've got a selling job to do if we're going to make this successful," Harrison said Thursday in an interview with Bloomberg Television. It was the first time Harrison has said CSX didn't welcome Canadian Pacific's overtures. A CSX spokesman declined to comment.
Harrison has been pursuing an acquisition that would create a coast-to-coast railroad, eliminating rail-car exchanges between carriers. He set his sights last year on Norfolk Southern, which lags behind other large carriers in key efficiency measurements. Exploratory talks in 2014 on a possible linkup with CSX failed to gain momentum.
Canadian Pacific has made three offers to buy Norfolk Southern, including one in December that valued the U.S. company at $27 billion. All were rejected as "grossly inadequate" and carrying regulatory risk.
Shaking Hands
In hindsight, Canadian Pacific probably should have used a "little softer" approach to win over Norfolk Southern CEO Jim Squires and his team, Harrison said Thursday in the interview at his home in Ridgefield, Connecticut.
"We made an offer with Norfolk Southern with a letter, a pretty extensive offer, a four- or five-page letter," he said. "Maybe we should gone in and shaken hands, sat down and just talked first. Maybe their impression was that we were trying to back them into a corner. It was not our intent."
The Calgary-based railroad is proposing a resolution to Norfolk Southern shareholders requesting that the carrier's board engage in "good faith" discussions. Should that resolution be rejected, Canadian Pacific would end efforts to merge and focus on its own network, Harrison has said. On Thursday, he also ruled out a hostile bid.
"The end game is, we come out of the transaction and we're ready to serve customers," Harrison said. "When you go hostile, it doesn't create the type of environment, the type of esprit de corps among the teams to get those things accomplished."
Before it's here, it's on the Bloomberg Terminal.
LEARN MORE