Brazil Real, Stocks Gain on Report Prosecutors Seek Lula Arrest
by and
Ex-President Lula is accused in Sao Paulo of hiding assets

Central bank minutes send interest-rate swaps tumbling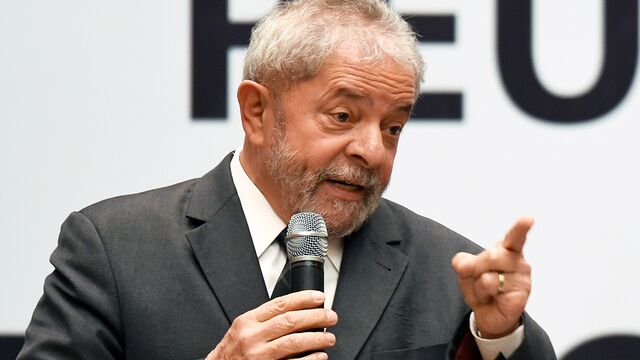 Brazil's real extended its best-in-the-world rally and stocks climbed as a news report that prosecutors requested a preventive arrest of Brazil's former President Luiz Inacio Lula da Silva added to speculation that a change in government may be drawing closer.
With Thursday's gain, the real is up 11 percent since the start of March, the most among the world's most-traded currencies. The Ibovespa climbed to the highest level in seven months, led by banks. The Sao Paulo prosecutors' press office didn't confirm the information published by O Globo newspaper on the request. Lula's lawyers didn't immediately respond to phone calls seeking comment.
Traders are becoming more bullish as the outlook for President Dilma Rousseff worsens amid a corruption scandal that looks poised to snare Lula, whose name has been tossed around as the party's leading candidate in the next presidential election. It's a stark reversal from the sky-is-falling mood that prevailed in Brazilian markets last year when troves of investors abandoned Latin America's biggest economy, causing the real to tumble 33 percent and wiping out $62 billion in the market value of the nation's 100 biggest companies.
"The markets have been anticipating the end of this government," said Jason Vieira, the chief economist at Infinity Asset Management in Sao Paulo. "The question now is not whether this administration will fall, but when."
The real advanced 1.8 percent to 3.6263 per dollar, its strongest level since Aug. 31. The Ibovespa added 1.9 percent to 49,571.11, after declining as much as 1.5 percent. Lenders Itau Unibanco Holding SA and Banco Bradesco SA climbed at least 3 percent.
While investors last year were split on whether a complicated and possibly lengthy impeachment would be good or bad, many now say it may be the only way out of the political quagmire that is preventing lawmakers from focusing on closing a crippling budget gap and reviving growth. Economists forecast Brazil's gross domestic product to shrink 3.3 percent this year on top of a 3.8 percent contraction in 2015, according to estimates compiled by Bloomberg.
On Wednesday, Sao Paulo prosecutors accused Lula of hiding assets from authorities just days after a separate probe unleashed a new round of political turmoil. Lula has denied any wrongdoing. Meanwhile, the PSDB, the biggest opposition party in Congress, and the PMDB, currently the largest ally in Rousseff's ruling coalition, are cooperating to find ways to solve Brazil's economic and political crisis, according to two people with direct knowledge of the discussions who asked not to be identified. The talks are fueling bets the two parties could form a new alliance and jointly support impeachment.
"All these accusations against Lula and the closer proximity between PMDB and PSDB could be a a turning point," said Joao Paulo de Gracia Correa, a foreign-exchange director at SLW Corretora de Valores, in Curitiba, Brazil. "It could lead to more accelerated policy implementation."
Dovish minutes from the central bank's latest meeting coupled with a worse-than-expected retail sales report led traders to increase bets that policy makers may consider interest-rate cuts sooner than previously thought. Swap rates on the contract maturing in January 2017, a gauge of expectations for interest-rate moves, declined 0.06 percentage point to 13.83 percent, the lowest level since Aug. 21.
Domestic and global uncertainties could improve conditions for the convergence of Brazil's inflation toward the target in 2017, policy makers said in minutes of the March 1-2 meeting published Thursday.
Retail sales tumbled 1.5 percent in January from a month earlier, the national statistics agency said Thursday. That was almost twice the median estimate of 29 economists in a Bloomberg survey, and came on top of a report Wednesday that showed inflation slowed more than forecast last month.
"The market read the minutes searching for signs of the central bank's willingness to cut interest rates," Vieira said. "That adds to the data about retail sales, which was very negative and reinforces the view that the Brazilian economy is in really bad shape."
Before it's here, it's on the Bloomberg Terminal.
LEARN MORE