BOJ Negative Rate Seen as Top Tool by Analysts, With Cut by July
by , , and
Central bank forecast to keep policy on hold next week

Markets still digesting effects of new negative rate policy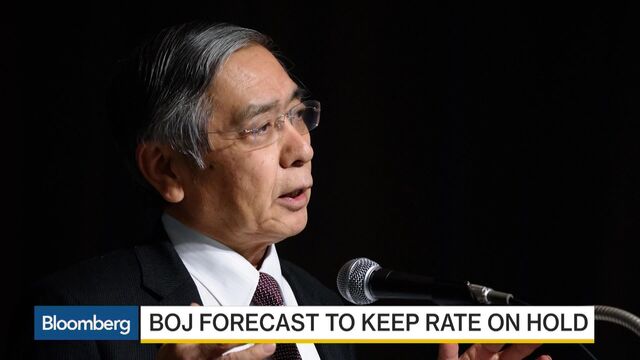 The Bank of Japan's new negative rate is the most likely tool for any expansion of stimulus, with a majority of economists in a survey forecasting additional easing by July.
Eighty percent of analysts see a further cut to the negative rate as the most likely action for Governor Haruhiko Kuroda, and almost 90 percent see more easing coming at one of the four meetings through the end of July. Only five of 40 economists expect additional stimulus at the meeting ending on March 15, according to the survey by Bloomberg.
The bank shocked markets in January with the negative rate policy, which means it charges financial institutions on some of their reserves at the BOJ. The effects of that decision are still being felt -- yields on more than 70 percent of government debt are now below zero, money market funds stopped accepting investments, and bank shares have tumbled on profit concerns.
"March easing is unlikely in my opinion since money markets are still trying to find an equilibrium," Izumi Devalier, an economist at HSBC Holdings Plc, wrote in the survey, conducted March 8-10. "Our base case is for July easing precisely because we thought the BOJ would want a few months to judge the impact of negative rates on markets, especially money markets."
Market Forecasts
Overnight indexed swap markets are signaling traders see little chance for further BOJ easing in the coming three months. Three-month forwards on OIS contract were at minus 0.11 percent on Thursday in Tokyo, compared with the BOJ's minus 0.1 percent deposit rate. Six-month forwards were at minus 0.19 percent, indicating traders see strong odds that Kuroda will ease again.
The central bank has faced a backlash of criticism and confusion since the January meeting, with lawmakers summoning Kuroda a record number of times to answer questions on the policy. The Bank for International Settlements warned of "great uncertainty" if worldwide rates stay negative for a prolonged period, in a report from earlier this month.
The European Central Bank expanded stimulus Thursday, prompting an initial drop in the euro, which was erased after President Mario Draghi signaled more rate cuts probably won't be needed. Interest rates in Europe will remain low for a long period of time, Draghi said, after taking rates further into negative territory and increasing asset purchases.
Kuroda has indicated little appetite for stimulus at back-to-back meetings, saying he wants to see the impact of his "powerful" policy on the economy. The BOJ will chose appropriate policy combinations if it has to consider further stimulus, with options in quality, quantity and in negative rates, Kuroda said in parliament on Thursday.
Carefully Watching
The bank will expand stimulus, but not next week, Etsuro Honda, an aide to Japanese Prime Minister Shinzo Abe, told Bloomberg on Thursday. "The BOJ is carefully watching the reaction from market participants" to its January announcement, he said.
Market volatility has eased and Japan's Topix index is rising after dropping to the lowest level since October 2014 in mid-February, although the yen has strengthened almost 6 percent against the dollar this year. Barclays Plc and JPMorgan Chase & Co. had been expecting further easing this month, but pushed back that forecast to July, citing calmer markets after the earlier turmoil.
Record low yields
Even so, the effects of the BOJ's new policy are still working themselves out. Japan's benchmark 10-year bond yields dropped to a record low of a minus 0.1 percent on Tuesday, and the Ministry of Finance has canceled planned sales of 10-year fixed rate notes aimed at individual investors from early February.
The BOJ's key price gauge, which it uses to measure its progress toward the goal of 2 percent inflation, has been hovering near zero percent since May, held down by the collapse in oil prices and the sluggish economy. The bank cited that weakness when it announced the new policy. 
"The bank will assess how the effects of the decline in interest rates permeate and spread through the real economy," Kuroda said on March 7. Days before, his deputy and a former head of central bank's markets section Hiroshi Nakaso said that "some more time is needed for financial markets to digest the policy."
Before it's here, it's on the Bloomberg Terminal.
LEARN MORE