BioLogic, a Shape-Changing Fabric That Vents When You Sweat
MIT researchers are refining the material, which responds to changes in humidity.
By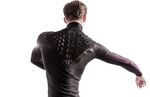 Innovator: Hiroshi Ishii
Age: 60
Title: Professor and associate director of MIT Media Lab, an interdisciplinary research group
Form and function
A new material called bioLogic alters its shape with changes in humidity, so an athlete's shirt, say, can open ventilation ducts in the back when its wearer starts sweating.

1. Material
The bioLogic team grows a strain of noninfectious bacillus bacteria in a solution and uses a custom machine to print it onto both sides of a piece of latex.
2. Changes
The bacteria expand or contract the fabric as much as 15 percent in response to rising or falling humidity, which enables the ventilation ducts to open or close.
Origin
Ishii and his student team, led by Ph.D. candidate Lining Yao, have been working on the material for about two years.
Partners
The Media Lab group is working with MIT's chemical engineering department, London's Royal College of Art, and sportswear maker New Balance to refine bioLogic.
Market
Beyond sportswear, the technology could be used in everything from lampshades to tea bags to toys, Yao says.
Next Steps
Yao says the bioLogic team is testing waterproof glues and other materials to make the fabric more durable, with an eye for it to be used at the Tokyo Summer Olympics in 2020. It's also considering spinning off a startup to commercialize its work. California Institute of Technology chemical engineering professor Frances Arnold says among the challenges will be making sure the material can withstand a washing machine.
Before it's here, it's on the Bloomberg Terminal.
LEARN MORE