Style Guide
Here Are 15 Light Jackets That Will Help You Shift to Spring
From a suede motorcycle jacket to a cotton bomber, these lighter options will feel like a breath of fresh air.
by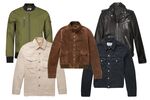 On Feb. 2 a furry little critter named Punxsutawney Phil spoke and forecast an early spring. The groundhog didn't see his shadow—and he was right, clearly, because now the Northern hemisphere is experiencing temperatures in the 60s. It's not time for T-shirts yet, but it's definitely time to hang up your Moncler and Canada Goose winter puffers. Here are 15 weather-appropriate jackets for right now. 
Leather Choices 

Leather jackets are timeless, they are not restricted to one season, and they only get better with age. Either start wearing one of your old favorites, or better yet, upgrade to one of these guys from the Kooples, Brioni, or Coach.
Denim Jacket 

It can be tough for a grown-up to find a great jean jacket—there are so many colors and styles. For this spring season, try a classic indigo version, such as the traditional trucker jacket from Levi's, or something a shade or two darker. Whatever you choose, don't select a super-washed-out or white edition. Keep those for the summer.  
Cotton Bomber

After you've spent a winter buried under layers of wool, down, and flannel, there's nothing more refreshing than throwing on a lightweight jacket. This is perfect for weekend wear, over a T-shirt.
Soft Suede

You'll notice in spring people wear more suede—it's because the weather is more reliable and the material is less likely to get damaged. Just make sure to check the weather forecast for any unexpected showers before you leave the house. 
Field Jacket 

I often suggest one of these military-inspired field jackets during the between seasons. They're perfect for cool days and warm days, and if you get a waxed version like the Belstaff, it'll be suitable for rainy days, too. 
Moti Ankari is the associate market editor for Bloomberg. Follow him on Twitter @motiankari and Instagram @themetroman, or contact him at mankari@bloomberg.net.
Before it's here, it's on the Bloomberg Terminal.
LEARN MORE