AmEx Targets Loan Growth as Rivals Cut Fees in Partnerships
by
Firm has long touted `spend-centric' strategy over lending

`Our board is fully supportive of our plans,' Chenault says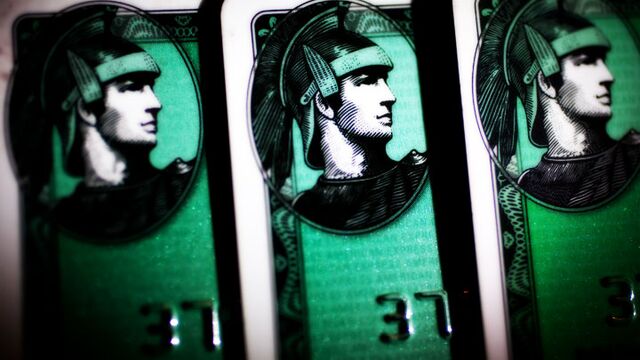 American Express Co. will increase lending in the U.S. as competitors cut acceptance costs to win credit-card partnerships with big merchants, Chief Executive Officer Ken Chenault said.
The focus on financing may help AmEx bolster revenue amid increasingly aggressive bidding on deals with retailers, airlines and other companies that bring in customers and fee-generating spending. Still, the move isn't likely to shift AmEx's total revenue mix, Chenault, 64, said Thursday at the company's annual investor day.
"The company is challenged to grow revenue via spending at present," said Jason Arnold, an analyst at RBC Capital Markets. But it may prove difficult to add loans without sacrificing profitability, he said. "The only way to attain growth like that is to offer better interest rates or rewards, which means lower return on equity on that growth."
AmEx is trying to reverse its worst stock slump since the financial crisis after deciding last year to part ways with its biggest co-brand partner, Costco Wholesale Corp. Chenault has been shaking up management and reshaping divisions to rejuvenate earnings as the competition, a strong U.S. dollar, falling gas prices and new rules hurt revenue.
'Fully Supportive'
"Our board is fully supportive of our plans," Chenault said. Fox Business Network reported this week that management is on "thin ice," and that AmEx might sell itself to a bank, paving the way for a new chief.
The stock slipped less than 1 percent to $58.75 in New York. It's down 16 percent this year. On Thursday, AmEx reiterated a forecast for earnings per share of $5.40 to $5.70 for this year and at least $5.60 for 2017. It also stuck by a $1 billion cost-cutting target.
AmEx has long emphasized the advantage of its "spend-centric" reliance on handling transactions rather than a "lend-centric" focus on earning interest from card balances. But that strategy has been challenged by competitors' willingness to sweeten terms on fees. Chenault told investors AmEx has the skill and assets to build a "superior" lending model to beat rivals. The shift isn't big enough to mark a strategy change, he said.
"We'll bring new lending products to our membership, enhancing the value of membership," consumer services chief Doug Buckminster said during his presentation. "We will not compromise our rigorous underwriting approach."
Growth Scenarios
Under a deal with Visa Inc. and Citigroup Inc. last year, Costco may cut its acceptance costs to roughly zero, people familiar with the arrangement said in April. That compares with the roughly 0.6 percent of each transaction the retailer was paying to AmEx.
The card company has long sought to boost per-share profits by 12 percent to 15 percent on average over the long term, while targeting revenue growth of at least 8 percent. While Chenault said that isn't the immediate goal because of the current challenges, he laid out "potential growth scenarios" showing AmEx can still increase per-share earnings with slower revenue growth. He said he isn't offering those figures as a new target.
Before it's here, it's on the Bloomberg Terminal.
LEARN MORE