AmEx CEO Chenault to Face Investors After Stock's 27% Tumble
by
Analysts: Focus on growth, succession in annual presentation

Lender says shareholders will learn more about reorganization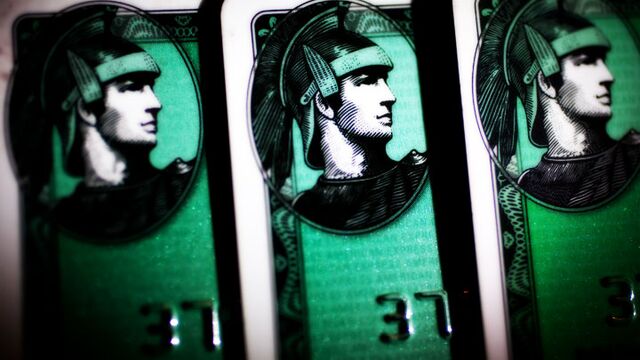 American Express Co. Chairman and Chief Executive Officer Ken Chenault is about to face investors with big questions.
Speculation that Chenault, 64, might sell the lender to a major bank or announce a leadership change helped nudge the stock up this month before the firm's annual investor day on Thursday. While analysts aren't necessarily backing those theories, they're focused on the underlying driver: concern the biggest credit-card issuer by purchases will struggle to maintain growth amid stiffening competition.

AmEx has slumped 27 percent since Chenault took the stage a year ago, the worst performance in the Dow Jones Industrial Average. This year's event starts at 1:30 p.m. in New York. Shareholders also will hear from Anre Williams, who oversees merchant services and loyalty business; Douglas Buckminster, president of the global consumer unit; and Vice Chairman Stephen Squeri.
Here's what investors and analysts will have an eye out for:
Boosting Revenue
Three weeks ago, Chenault announced his most sweeping shakeup yet to reinvigorate earnings, reassigning senior managers and consolidating marketing activities. Since then, the stock has climbed 11 percent, more than doubling the gain in the Dow Jones index. Analysts have said they're hoping to hear how the new configuration will accelerate revenue growth and whether executives will stick to a target for an earnings-per-share growth rate of 12 percent to 15 percent over the long term.

New Leaders
"Is senior management on 'thin ice?'" Bernstein analyst Kevin St. Pierre wrote atop a list of 10 questions sent to clients Wednesday. Some investors are dissatisfied, and the stock would probably rise if a succession plan is unveiled, he said. But AmEx's biggest holder, Warren Buffett, has maintained his support, potentially keeping pressure at bay, St. Pierre said.
The stock rose seven straight days through Tuesday, its longest winning streak since 2014, helped by a Fox Business Network report that AmEx might sell itself to a bank, paving the way for a new chief. Still, speculators shouldn't forget a merger of major financial firms would hit political and regulatory resistance, St. Pierre said.
AmEx spokeswoman Marina Norville said the firm doesn't comment on rumors and that executives will give greater detail on divisions reshaped by the management overhaul.
Winning Partnerships
Banks and rival card networks have been bidding aggressively to wrest away partnerships that AmEx has leaned on to add clients. The firm has pledged not to do deals that don't make economic sense and last year said it's parting with Costco Wholesale Corp. and JetBlue Airways Corp.
"I'm curious to see how management is thinking about addressing those issues," said Dave Sather, president of Sather Financial Group Inc., which has been increasing its AmEx holdings. "There's lots of opportunity for American Express to expand. That is what I'm looking for."
Improved Rewards
The company will probably describe its plans for customer incentives, Credit Suisse Group AG analyst Moshe Orenbuch said in a research note. Separately on Tuesday, he lowered his price target for AmEx, saying its reluctance to sweeten rewards risks market share. Executives have said "the AmEx brand, security and service are enough such that the company does not need to raise its rewards to the level of other competitors," Orenbuch wrote in the note. "We do not believe this to be true over the past several years and it will become even more apparent over the next several quarters."
Before it's here, it's on the Bloomberg Terminal.
LEARN MORE