`Just Wait' Becomes Lament for Traders Who See Draghi Rally Fade
by
After jumping as much as 3.7%, Euro Stoxx 50 closes down 1.5%

Index had its biggest intrday move on an ECB day since 2011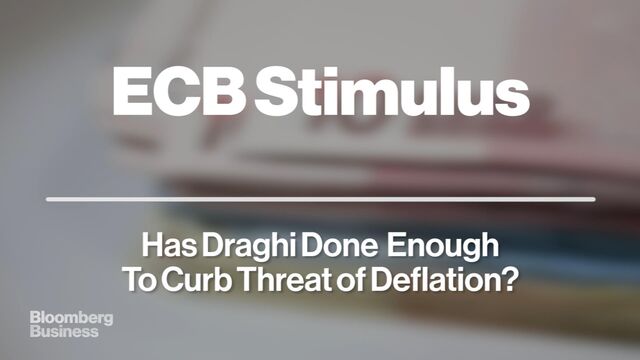 Benno Galliker spread his arms and stretched as the news of Mario Draghi's latest stimulus package flashed on his screens Thursday afternoon. He was long stocks, and the market was rallying.
"I really don't have to do anything now," said Galliker, one of 17 people on the trading floor of Luzerner Kantonalbank in Lucerne, Switzerland. "Just wait."
But waiting proved harrowing as what had been the biggest rally ever for the Euro Stoxx 50 Index following a European Central Bank decision in the Draghi era quickly disintegrated. Voices on the floor went silent when the ECB president said he didn't anticipate more interest rate cuts. Galliker, glued to a television screen, turned up the volume and kept looking at market charts.
"OK, as long as we're higher it's good," he said.
By the end of the day, the Euro Stoxx 50 had erased all of its advance, closing down 1.5 percent, the most in two weeks. Banks that had been up more than 7 percent earlier trimmed their gains to less than 1 percent. The euro strengthened as much as 2 percent, set for its biggest rise since the Dec. 3 rate decision -- when stocks again erased initial advances to finish 3.6 percent lower as Draghi disappointed with its additional stimulus package.
Before Thursday, economists projected a cut in interest rates. What the central bank delivered beat their forecasts: Draghi lowered all three key rates, boosted its monthly bond buying to 80 billion euros ($90 billion) and made corporate debt eligible for purchase.
"It was a day with two completely different narratives," said Kevin Lilley, who manages European equities at Old Mutual Global Investors in London. "It's crazy to think that on a day when the ECB cuts all rates and expands QE, the euro gained, stocks dropped and yields rose. What a difference a sentence makes."
Thursday's market reaction exemplifies a trend that's been intensifying in recent months: central banks are increasingly powerless when it comes to calming markets. The Euro Stoxx 50 moved more than 5 percent intraday, its wildest swings since August, and the most on an ECB day since 2011.
"By maintaining 'unconventional' monetary policies in place late into the cycle, central banks have been transformed from agents of stimulus to agents of volatility," Michael Shaoul, chief executive officer of Marketfield Asset Management in New York, wrote in an e-mailed note. "Things are much more complicated than they were in late 2008 for the U.S. or early 2012 for Europe, when the shift to unconventional policies heralded the start of long bull markets."
For Galliker, what mattered was that banks stayed up. He bought some of their shares just after the rate decision -- he was too worried about the outcome to buy them before, he said.
"As long as they're outperforming, I'm good," he said. The Euro Stoxx Banks Index ended the day up 0.9 percent. "Not a perfect day, but OK."
Before it's here, it's on the Bloomberg Terminal.
LEARN MORE