When Trump Steaks at a Trump Event Aren't Really 'Trump Steaks'
By
Bush Brothers confirms that steaks shown at event are theirs

`Trump Steaks, where are the steaks? Do we have steaks?'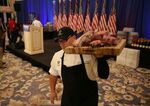 When Republican presidential front-runner Donald Trump showed off a pile of beautifully marbled steaks atop a butcher board at a Tuesday campaign event, he called them "Trump steaks." That's true in the sense that they were steaks, and they were on a Trump property.
But they weren't steaks from Trump's fabled, now defunct, Trump Steaks business. They were from Bush Brothers Provision Co., a West Palm Beach, Florida, purveyor that counts Trump-affiliated properties among its customers, said John Bush, whose family owns the company. Photographs posted on Twitter showed plastic wrapping on the meat at the televised event where Trump celebrated primary victories in Michigan and Mississippi. The packaging matched that used by Bush Brothers, Bush said.
Trump gestured to the raw beef while addressing earlier criticism of his businesses made by former Republican presidential nominee Mitt Romney. The steaks were displayed at the Trump National Golf Club in Jupiter, Florida, alongside cases of bottled water and Trump-branded wine.
"Trump Steaks, where are the steaks? Do we have steaks? We have Trump Steaks," Trump said, before joking that he'd sell them to attendees for $50 each.
Hope Hicks, a spokeswoman for his presidential campaign, said Trump clubs and other properties allow patrons to purchase meat.
"It is a very small, but successful business," she said in an e-mail. "The meat is purchased from different locationally convenient purveyors and is always of the highest quality."
Frozen Steaks

Trump frozen steaks were offered at Sharper Image stores and by mail-order catalog in 2007. The Classic Collection -- two filet mignons, two bone-in rib-eyes and 12 burgers -- was priced at $199. Sales have since been discontinued.
Bush Brothers is the oldest business in West Palm Beach's Pleasant City neighborhood, and a fifth generation of family members has begun working for the firm, according to its website. The family isn't related to former Florida Governor Jeb Bush, who dropped out of the campaign last month.
John Bush demurred when asked if his family minded Trump's rebranding of their company's meat.
"We do and we don't," he said.