Volkswagen's U.S. CEO Leaves Suddenly After 'Mutual Agreement'
By and
Horn retained dealers' support even as VW sales fell in U.S.

`What could he have done, besides give cars away?': Analyst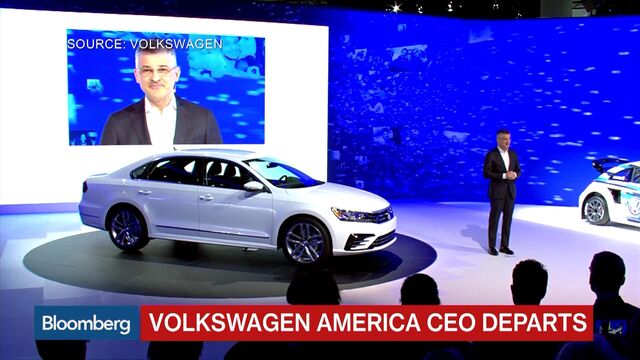 Michael Horn, leader of the Volkswagen brand in the U.S., abruptly left the automaker as its American sales continue to fall following an emissions-test cheating scandal.
The decision was mutual and Horn, 54, will be replaced for now by executive Hinrich Woebcken, the company said in a statement. Horn became the brand's U.S. CEO in January 2014 and improved dealer relations so much that when the years of cheating came to light in September 2015, independent retailers lobbied for him to remain on the job and said his removal would be "catastrophic."
Horn had been a public face for the brand, apologizing repeatedly at auto shows and other events, and his departure caught analysts and key dealers off-guard. Apologies aside, U.S. sales have fallen for four straight months and the Wolfsburg, Germany-based company has been unable to reach an agreement with U.S. and California regulators.
"People know this scandal was rooted in Germany, which is why this is so surprising," said Rebecca Lindland, senior analyst for auto researcher Kelley Blue Book. "In terms of scapegoats, there are other goats out there who would have been better" to take the fall.
In October, Horn told Congress the cheating was the work of a few employees and not known by top executives in Germany -- though acknowledging at the time: "I agree it's hard to believe." Two weeks later, Manager Magazine reported that former Chief Executive Officer Martin Winterkorn and other senior leaders knew of the manipulation early on.
The unresolved issues with U.S. and California regulators include how to fix some 600,000 cars on the road in the U.S. and ways to address environmental damage as they spew as much as 40 times the allowable amount of smog-forming nitrogen oxide.

The VW brand's monthly declines since the scandal include a 13 percent drop in February that was larger than analysts had estimated. Before the admission that its diesel-powered cars included a so-called defeat device that controlled emissions only during tests, those models made up about 20 percent of VW sales in the U.S. In January, Horn said that only a relatively small number of U.S. drivers wanted to trade in their over-polluting cars.
"What could he have done, besides give cars away?" said Maryann Keller, an independent auto industry consultant in Stamford, Connecticut. "This is not fixable by any one person in the United States. This has to be fixed by someone in Germany."
Mounting Costs


VW set aside 6.7 billion euros ($7.4 billion) for recall costs in the third quarter and has already acknowledged this won't be enough. The relatively easy and cheap technical solution for about 8.5 million affected cars in Europe didn't apply to autos in the U.S. because of technical differences and stricter diesel emission rules.
The company said that Horn's departure was effective immediately, and in a statement VW brand Chief Executive Officer Herbert Diess praised his "exemplary leadership." Woebcken, his replacement, recently was named head of the North America region and chairman of Volkswagen Group of America.
Horn retained the support of a key group of U.S. Volkswagen dealers and his departure was a "complete surprise," Alan Brown, chairman of that dealer council, said in an interview. Brown runs two VW dealerships in Texas.
Dealers Riled
Brown said he told Diess on Wednesday that he needs to reassure dealers that the automaker will keep its promises on investing in new products and on the timing of those models. That needs to be done ahead of an April 2 meeting at the National Automobile Dealers Association convention in Las Vegas, Brown said.
Brown is scheduled to meet with Diess and other Volkswagen board members on Sunday in Germany and he said he plans to seek written re-assurance on product introductions and price points for everything coming from the end of 2016 through 2018.
"Anything less than that is going to cause the dealer body to become unraveled and take action against Volkswagen," Brown said.