Trump Beats Back Attacks, Tightening Hold on Republican Race
By and
Wins in Mississippi, Michigan brush back anti-Trump efforts

Victories show breadth of Trump's appeal to primary voters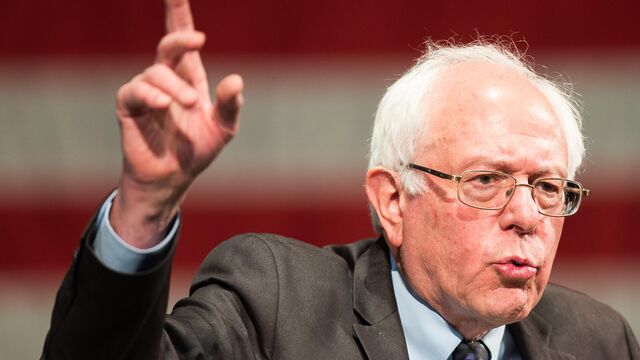 Donald Trump beat back a barrage of attacks led by the last Republican presidential nominee and scored major victories in two primaries on Tuesday, strengthening his bid to win the party's nomination and throwing Marco Rubio's political future into doubt.
After being pummeled in the last week by an all-out assault organized by Republican establishment figures united under the slogan #NeverTrump, the front-runner won the two biggest contests, in Mississippi and Michigan, brushing aside appeals based on regional affinity from Texas Senator Ted Cruz and Ohio Governor John Kasich. Trump also won the caucuses in Hawaii. Cruz managed to score a win in Idaho's primary.

But Trump's victory in a northern industrial state and another one in the old South, each with distinctly different demographics, again showed his ability to win almost everywhere, so long as the field remains fractured. 
His strength in Michigan could foreshadow success a week later in Ohio, which has similarities in its economic base and working-class roots. It also demonstrated his draw in a state that has been solidly in the Democratic column in the last six presidential elections.
"Only one person did well tonight: Donald Trump," said the real estate mogul and former reality television star.
Rubio's Status
At the other end was Rubio, a Florida senator. The candidate many in the party's establishment have been trying to put forward as a potential savior from Trump never looked weaker.
He finished a distant fourth in both Michigan and Mississippi, a showing that could further hurt his prospects for the March 15 Florida primary. He needs to win that contest because a Trump victory there could effectively end the nomination race.
"It was a terrible night for Rubio, a good night for Kasich and a great night for Trump," said John Feehery, a Republican strategist in Washington who isn't aligned with a campaign. "It seems like further consolidation is the only way to slow Trump down."
In the Democratic race, Vermont Senator Bernie Sanders narrowly won Michigan's primary in a major upset of front-runner Hillary Clinton. In the only other contest between the two, Clinton decisively beat Sanders in Mississippi.
Delegate Counts
Michigan was the biggest prize of the night for Republicans, with 59 delegates at stake, followed by Mississippi with 40, Idaho with 32 and Hawaii with 19. Before voting started on Tuesday, Trump led the delegate chase with 384, followed by Cruz with 300, Rubio at 151 and Kasich with 37, according to an Associated Press tally. It takes 1,237 delegates to win the Republican nomination.
By Wednesday, Trump had extended his delegate lead to almost 100 more than Cruz, according to the AP.
As he celebrated his latest primary victories, Trump made clear that it's always about the brand for him. In the latest oddity of an unusual presidential campaign, the expert marketer surrounded himself Tuesday evening in Florida with his branded steaks, water bottles and wine at Trump National Jupiter golf course.
Trump's Brand
The billionaire defended his own personal brand as well. He's been subject to heavy criticism from Cruz and Rubio as well as establishment leaders like Romney who have blasted Trump's behavior and his ill-defined policies, saying they make him unfit to led the party and country. Some conservative groups and political action committees are pouring millions into ads aimed at derailing Trump by preventing him from gaining the majority of delegates needed to claim the nomination at the party's convention in July.
Trump was defiant.
"I think what this shows, really more than anything else, is that advertising is not as important -- it really isn't as important as competence," he said. "There has never been more money spent on hitting somebody than was spent on me."
Trump also extended an olive branch to the Republican establishment, praising House Speaker Paul Ryan and pointing to a recent phone call he had with the Wisconsinite. "Believe it or not, I'm a unifier,' he said.
At the same event, he again called Cruz "Lyin' Ted" and Rubio "Little Marco."
Kasich's Stand
The other establishment Republican being touted as a possible Trump stopper is Kasich. With 99 percent of precincts counted, Kasich was running third in Michigan, less than a percentage point behind Cruz. But he has yet to win any state contest as he heads into a win-or-exit primary next week in his home state.
"Kasich is the new Rubio," said Dan Schnur, a veteran of past GOP presidential campaigns who is now director of the Jesse M. Unruh Institute of Politics at the University of Southern California. "But tonight is the last time that moral victories count. Next week they have to either win or go home."
A Wall Street Journal/NBC News poll released Tuesday evening showed Trump leading Cruz 30 percent to 27 percent among likely Republican primary voters nationally. They were followed by Kasich at 22 percent and Rubio at 20 percent, in a survey that included 397 registered voters who say they would vote in a Republican primary. The poll, which had a margin of error of 4.9 percentage points, was conducted Friday through Monday.
Trump won the most support of any candidate among independents and Republicans in Michigan, according to exit polls published by CNN. He also won among men, voters 45 and older, whites, and those with no college degree, while also being the leader among voters with incomes less than $50,000 and year and those earning $50,000 or more.
Trump tied Cruz among female voters in Michigan, according to the exit polls. On Wednesday, the front-runner attributed his relative weakness among women to the tone of the race.
"In order to be victorious, frankly, I had to be very tough and I had to be very sharp and smart and nasty. I could see women not necessarily liking the tone but I also had to get to the finish line," Trump said on MSNBC. "And if I didn't have that tone I wouldn't be talking to you this morning, I guarantee you that. I would have been sitting home with Lindsey Graham watching television."
On questions of ideology, Trump won in Michigan among those who describe themselves as somewhat conservative voters and moderates, while Cruz won the very conservative voters. Trump even won evangelicals, who the Texas senator has targeted throughout the campaign.
Trump's appeal was strong in blue-collar areas such as Macomb County, home of automotive plants and parts suppliers and mostly white, union-member voters. Those are the kind of voters that were the inspiration for the phrase "Reagan Democrats," a demographic that backed Republican Ronald Reagan in the 1980s.
Trump won 48 percent of the vote in Macomb County, which is north of Detroit. He'd held a rally in the county on March 4 and emphasized his message about the loss of jobs from trade deals and companies such as Ford Motor Co. building plants outside of the U.S.
Tuesday's contests were a warm-up act for even more crucial ones to be held a week later that will include primaries in Ohio and Florida, where the winner in each state will get all of the delegates. Trump victories in both states could help give him an insurmountable delegate lead and momentum.