The China Intervention Trade Is Back as State Funds Battle Bears
Bloomberg News
Pattern of late-day rallies returns as index heavyweights jump

China stocks rose Tuesday even as weak data fueled global rout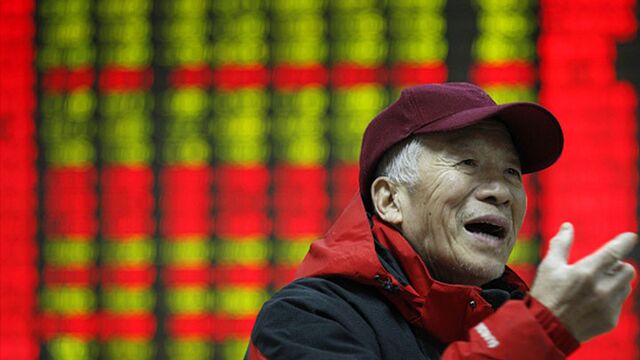 The Chinese stock market has once again turned into a battleground for bearish investors and state-directed funds determined to spark a rally.
QuickTake China's Managed Markets
During each of the past six days, the Shanghai Composite Index has recorded intraday losses before recovering to end the trading session higher, with suspected intervention targets including Industrial & Commercial Bank of China Ltd. and PetroChina Co. leading the rebound. After dropping as much as 3.1 percent on Wednesday, the benchmark gauge pared its loss to 1.3 percent at the close as ICBC jumped.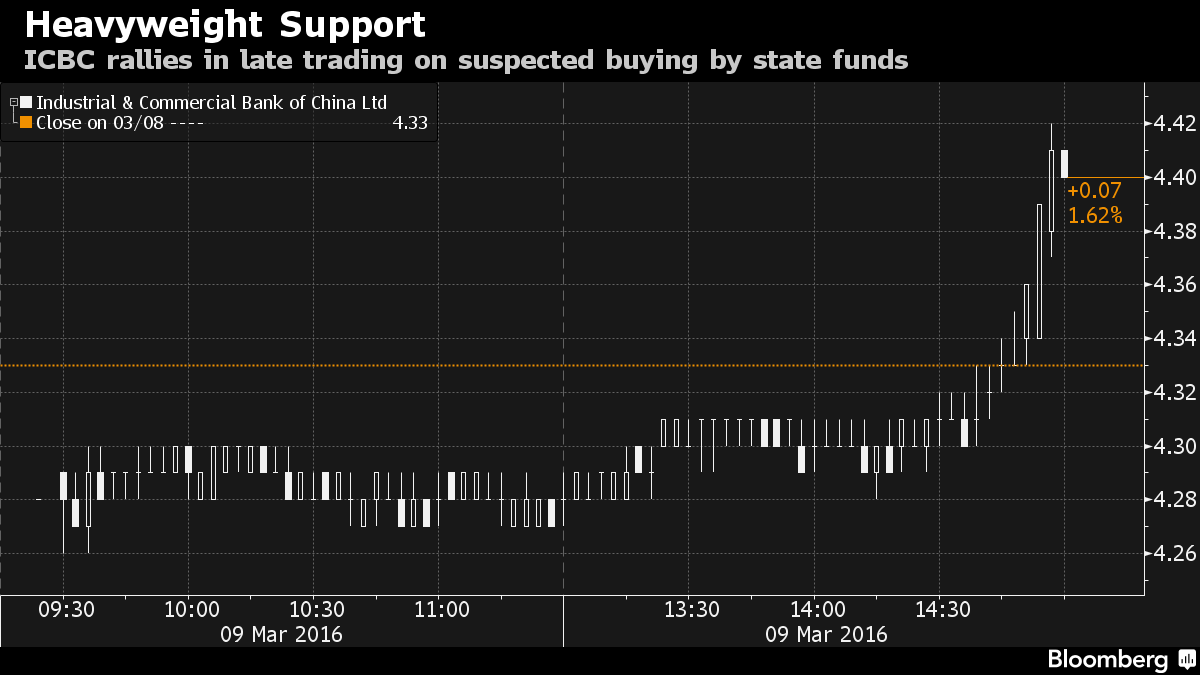 The resumption of afternoon rallies, a common occurrence during the height of the government's market rescue campaign in July, has presented traders with a quandary: Worsening economic data suggest stocks should fall, but state intervention provides an opportunity to profit from short-term gains. It's yet another sign of how government meddling has undermined the leadership's own pledge to increase the role of market forces in the world's second-largest economy.
Global Retreat
"There might be funds buying in the afternoon and pushing up the index again," said Zhang Gang, a Shanghai-based strategist at Central China Securities Co. "But the market won't be able to find a more clear direction until after" the National People's Congress ends, Zhang said.
The Shanghai Composite posted a sixth day of gains on Tuesday, extending its March rally to 7.9 percent, despite a worse-than-estimated plunge in exports that sent shares tumbling around the world. Some local branches of the securities regulator asked listed companies, mutual funds and brokerages to stabilize the market during annual parliamentary meetings this month, two people with direct knowledge of the situation said last week.
"Near-term data like trade is negative, and so there is selling pressure," said Francis Cheung, a senior strategist at CLSA Ltd. in Hong Kong. "The government is supporting the market for the NPC, so when it ends, we could see a pullback."
Banks and other major state-owned enterprises are most vulnerable to a retreat after the NPC, Cheung said. ICBC, the country's biggest lender, climbed 9.4 percent this month and PetroChina, the largest oil producer, added 7.1 percent. The Shanghai Composite's 6.5 percent gain in March compares with a 3.1 percent advance in the MSCI All-Country World Index.

"If you look at the macro data coming out from China, you see it hasn't been performing well," said Ronald Wan, chief executive at Partners Capital International in Hong Kong. "That has been reflected in other markets, but on the contrary it hasn't been reflected in the A-share market."
— With assistance by Amanda Wang, Cindy Wang, and Kana Nishizawa
Before it's here, it's on the Bloomberg Terminal.
LEARN MORE