Tennis Star Sharapova Not Cheating, Inventor of Banned Drug Says
by and
Meldonium was commonly used by athletes, especially in Russia

Manufacturer says it improves function, but inventor disagrees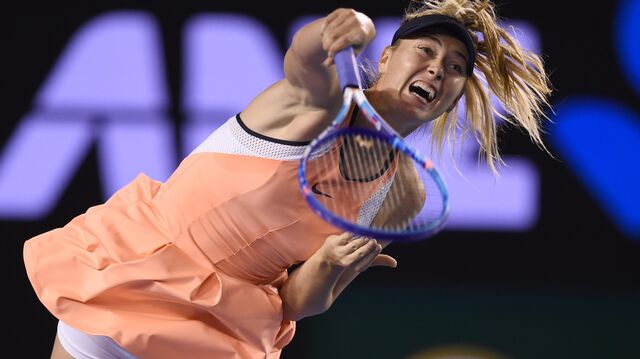 The Latvian chemist and inventor of the drug that put tennis champion Maria Sharapova on the wrong side of doping authorities says it doesn't actually help athletes play better. At the same time,  physicians say there's no reason for healthy athletes to take the drug, which Sharapova said she had used for 10 years "for health reasons."
Yet athletes have been using the medicine, known as mildronate or meldonium, and not to treat a disease. It was banned starting Jan. 1 by the World Anti-Doping Agency because of "evidence of its use by athletes with the intention of enhancing performance," according to a statement from the agency in September.
Since the ban went into effect, several athletes have tested positive, many from Russia, where the drug is legal, and its neighbors. In one case, a Russian Olympian has likened the drug to "vitamin C," and Sports Minister Vitaly Mutko told TASS news agency there will be more cases.
Whether the drug actually improves players' speed, strength, or stamina is an open question. Its inventor says it doesn't, and that it's protective rather than performance enhancing.
Drug's Inventor
"It's total nonsense to consider that meldonium would be doping," said Ivars Kalvins, now chairman of the scientific board of the Latvian Institute of Organic Synthesis, who created the compound in the 1970s. Meldonium "protects the heart and specifically the heart's muscle cells" when they're deprived of oxygen, which can happen in intensive training.
While the athletic benefits of some drugs, like the blood-booster Epogen, are fairly well established, that's not the case for all of the dozens of substances banned by the WADA. Since the drugs were largely developed as curatives, there may be little research proving their benefit in the healthy or in an athlete willing to cross the line. Others might allow athletes to overcome the physical or mental stress of training, increasing the preparation they can do before competition.
American physicians note that the medical evidence behind meldonium is thin.
"People believe that it makes cells more efficient in the fuel they burn," says Aaron Baggish, director of the cardiovascular performance program at the Massachusetts General Hospital Heart Center, and a member of the American College of Cardiology Sports and Exercise Cardiology Council. "None of us in this country have any experience using it."
Cell Metabolism
Meldonium is a unique compound that targets cell metabolism, or how cells use energy, a "poorly understood" area in pharmacology, Baggish said. While he emphasized that he wasn't familiar with Sharapova's medical record, "among healthy athletes, I cannot think of a medical reason why this medication would be prescribed," Baggish said.
The World Anti-Doping Agency put meldonium on its watchlist for monitoring in 2015 and banned it at the start of 2016. That decision followed research that indicated it was in 2.2 percent of anonymous urine samples collected at random doping tests, according to the Partnership for Clean Competition, a collaboration of the U.S. Olympic Committee, the National Football League, Major League Baseball, and the U.S. Anti-Doping Agency.
On the website of Grindeks, the Latvian company that manufactures the drug, the treatment is promoted for its ability to "improve physical capacity and mental function" in healthy people. Grindeks's 2015 net sales were 82.9 million euros ($91.2 million), according to its financial statement.
Available to All
"Mildronate is a favorite among a wide range of health specialists and medication users, including among athletes," Grindeks spokeswoman Ilze Gailite said in an e-mailed statement. "So far it has been available for all who needed it, including athletes, to prevent disturbances caused by psycho-emotional and physical load."
Or maybe not, said Steven Nissen, chairman of cardiovascular medicine at the Cleveland Clinic. Meldonium appears to be a mild stimulant that "kind of makes people feel 'up,'" Nissen said. Whether that feeling gave Sharapova or other athletes an edge is unknown. "It looks to me like she took a risk on something that may not work at all."
Before it's here, it's on the Bloomberg Terminal.
LEARN MORE