Korea's Uphill Battle to Keep New Mothers in the Workplace
by
Kang Eun Hee founded an IT company before becoming a lawmaker

Now she's leading the government's charge for gender equality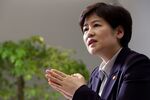 South Korea's new gender equality minister built an IT company from scratch while raising two sons. Now she really has her work cut out: persuading other business leaders to embrace a corporate culture that values female employees enough to keep them on after they have kids.
Korea is still losing many of its most promising workers when women have children, even after creating a parental leave system that's more generous than most developed nations, according to Kang Eun Hee, who is two months into her job as minister. She's up against entrenched practices that disadvantage mothers by often judging people on the hours they put in rather than their skill and productivity.
Getting women to play a bigger role in the labor force is an important goal of President Park Geun Hye as she fosters efforts to boost creativity and domestic consumption in an economy that was built on factories and exports. It's becoming all the more urgent with the country's working-age population set to start declining next year as the population ages.
"Korea already has top-class parental leave and child-care systems, and the key now is to ensure they are used properly," Kang, 51, said in an interview in Seoul on March 7. "Companies need to change the way they do things. You shouldn't have a boss who orders up new tasks just as the working day is coming to end."
Kang, who is the third minister in the role in as many years, was chief executive officer of Winitech Co. until she was recruited by the ruling party to become a lawmaker in 2012. She is also a former head of Korea IT Business Women's Association.
"There are concerns that a family-friendly corporate culture reduces productivity, but from my experience, employees who get the benefits of this become more loyal to the company and don't quit easily," said Kang, whose company developed disaster management software systems for fire stations, police departments and hospitals. "Korea has family-friendly policies in place, but there's a lack of consensus and confidence that it's okay to use them."

Mothers in Korea are entitled to a total 65 weeks of paid parental leave, above the 54 weeks average in OECD. Fathers are allowed 53 weeks, the most among the 34 member countries of the group.
About 80 percent of respondents to a health ministry survey said workers feel unspoken pressure from peers and managers against taking leave to care for children. Men make up just 6 percent of workers on parental leave, pushing a greater burden onto women who try to maintain a career.
Kang, whose sons are now in their twenties, said she relied in a combination of child care and help from her family to look after them when we was running her company. She credits her mother in law, who ran a dress making business, as a role model for working women.
Kang said she'll work with the Korea Chamber of Commerce & Industry to get guidelines to companies by midyear on how to improve workplace culture.
Corporate Leaders
She cited Lotte Shopping Co. and KT Corp. as examples of large companies that are complying with government policies to promote work-family balance. She didn't identify companies that are failing to comply.
Lotte Shopping allows employees to take about two years of unpaid leave on top of government requirements, the company said. About 23 percent of KT employees on child-care leave are men, according to the ministry.
While Korean women fare better than men in university entrance exams and labor market participation in their early twenties, the female presence in the workforce begins dropping off at about age 30. 
"Hiring good quality female workers and then having them leave after a few years is a loss to the economy," said Kang Min Jung, a researcher at Korean Women's Development Institute. "No matter how good the work is, managers want to see you pulling long hours in the office."
Before it's here, it's on the Bloomberg Terminal.
LEARN MORE