Sharapova Has More Money Than We Do, Anti-Doping Agency Says
by
Tennis star made $29.5 million in 2015, same as WADA budget

WADA head Reedie pleads for more cash as doping cases mount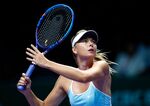 Days after Maria Sharapova announced that she had failed a drug test, the head of the World Anti-Doping Agency made a public appeal for increased funding, noting that the agency's yearly budget is a shade less than the tennis star's annual income.
The global anti-doping organization has an annual budget of $29.1 million, less the estimated $29.5 million Sharapova earned in prize money and endorsements in 2015, according to Forbes. More than 80 percent of her income came from sponsorships and endorsements, money that is now in jeopardy. Several of Sharapova's high-profile sponsors, including Nike Inc., distanced themselves from the No. 7-ranked player on the women's tour after she admitted to testing positive for the heart medication meldonium.
The story, along with ongoing crises in track and field in Russia, Kenya and Ethiopia, has renewed focus on sports' ability to tackle doping. WADA President Craig Reedie said the agency is hampered by its relatively small budget.
"We could do with a lot more money," he told reporters in London. "The accident of our budget and Miss Sharapova's total earnings last year is only an accident, but to that extent it's a convenient accident."
WADA, which was created in 1999 following a widespread doping scandal at cycling's Tour de France, is jointly funded by national governments and the International Olympic Committee.
"We're asked, I promise you, very regularly by sport and particularly by governments to do more and more and more," Reedie said. To do the work, WADA has asked for more money, to no avail.
Sharapova's admission is the latest doping crisis to hurt Russian sport. The 28-year-old said she didn't realize it was included on a list of banned substances as of Jan. 1, three weeks before she lost in the quarterfinals of the Australian Open. She is suspended from tennis until further notice, which may keep her from the 2016 Rio de Janeiro Olympics.
The tennis star grew up in the U.S. but competes internationally for Russia. The country's sports ministry has been ordered to overhaul its entire anti-doping program after an independent commission authorized by WADA found the evidence of widespread state-sponsored doping.
Dick Pound, WADA's founding president and author of the report, said today that Russia is not moving quickly enough.
"WADA compliance with code is mandatory for the games," he said. "Right now, Russia in the sport of athletics is on the outside trying to get back in. ... The Russians seem to assume the controversy will disappear but in many parts of the sporting world there is great resistance to any fast track solution."
A Kremlin spokesman today said Sharapova's doping case and others like it should not cast a shadow over Russian sport in its entirety. Russia's track and field federation didn't return an e-mail requesting comment.
Reedie said Russia hasn't yet responded to its offer of sending two experts to the country to help rebuild its anti-doping agency.
Sharapova is the most famous of a growing number of athletes to have tested positive for meldonium since the substance was banned. Russian sports minister Vitaly Mutko told the Russian agency R-Sport that he expects more Russian athletes to test positive for the Latvian-made drug, which is used to treat heart conditions and improve brain circulation.
Before it's here, it's on the Bloomberg Terminal.
LEARN MORE