Seven Good, Bad, and Ugly Charts Suggest Poloz Will Hold Steady
by and
Bank of Canada delivers rate decision Wednesday at 10 a.m.

Non-energy exports show acceleration, PMIs signal weakness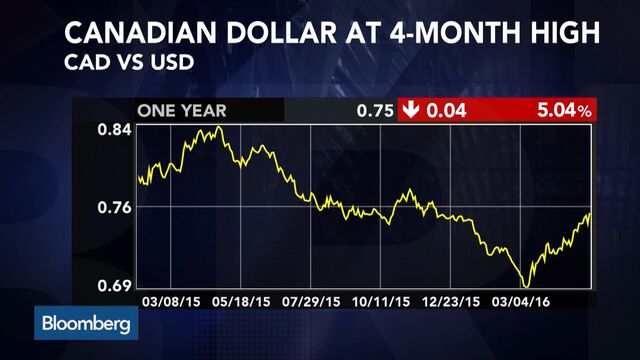 As the Bank of Canada prepares to deliver its latest interest rate decision at 10 a.m. in Ottawa, policy makers are faced with conflicting data that offer no conclusive evidence about the direction of the economy.
Will it shake off the negative effects of the oil shock, or enter another rough patch? For Governor Stephen Poloz, the mixed signals probably make for an easy decision.
Here are seven charts that show why Poloz & Co. are expected to stand pat at 0.5 percent.
The Good

Plunging oil prices highlighted the need for exports, in particular non-energy exports, to lead a rotation of Canadian growth to more sustainable drivers. On this front, there are nascent signs of an acceleration in the latest three readings. While a weaker currency improves the competitive position of Canadian exporters, it isn't the most important driver. In 2014, non-energy exports grew at a faster clip than in 2015 despite a stronger loonie, underscoring the importance of U.S. demand.
The Bad

The bad news on that score is that key segments of the U.S. economy, destination for 75 percent of the value of Canadian shipments, may be deteriorating. In late 2015 and early 2016, Markit and ISM measures showed weakness in the manufacturing sector may be spreading to the services sector. That would be unambiguously negative for Canadian exporters.

Canadian demand isn't looking so hot either. In the central bank's latest Business Outlook Survey, investment intentions fell to the lowest since 2009, with firms indicating they expect spending on machinery and equipment to decline further in 2016. The retrenchment is largely attributable to the collapse in oil prices and ensuing cuts to energy producers' capital budgets, but more growth in the non-commodity exports is needed before firms will be forced to expand capacity.

Yield premiums on two-year Treasuries have widened relative to their Canadian counterparts, in light of the expected outperformance of U.S. nominal growth. Usually the loonie would weaken in response, but in fact the currency continues to enjoy an oil-fueled rally. While that strength reduces the downside risks to financial stability and economic growth, the stronger loonie also crimps potential sales for exporters. Some analysts speculate Poloz will be keen to respond with a shift toward dovish rhetoric or rate cuts.

Canada's core inflation rate fell to 2 percent in January, down 0.4 percentage points from July, lending credence to the Bank of Canada's position that more slack in the economy exists than is implied by this metric; however, the rise of headline inflation to 2 percent in January, converging with core, undermines that position, and undercuts the case for further easing.

Household spending provided the foundation for Canadian economic growth for several years, and remained the single largest contributor to GDP expansion in 2015. But this positive impulse to growth waned substantially in the final quarter, as December retail sales suffered their biggest one-month percentage drop since 2010. Recent erratic readings can mostly be pinned to difficulties in seasonally adjusting for November spending on "Black Friday," a relatively new event north of the border. However the apparent fragility of the Canadian consumer constitutes an important downside risk for the central bank, which has projected consumption will once again contribute more to GDP growth than any other segment of the economy.
The Ugly

The Labor Force Survey suggests the rate of job creation in 2015 exceeded that of the previous two years -- a surprise, considering the economy was dealing with an oil-shock. The quality of these new jobs may leave something to be desired: self-employment grew by more than public and private payrolls combined, something that tends to happen in times of recession or large-scale austerity. Another negative signal came in the Bank of Canada's Winter Business Outlook Survey, which suggested employment growth is poised to moderate. The balance of opinion on hiring intentions dropped to its lowest level since 2009, with anecdotal evidence suggesting "plans to cut staff are more widespread and are not confined to the commodity-producing sectors and regions."


Before it's here, it's on the Bloomberg Terminal.
LEARN MORE