Scotiabank Lifts Porter's Pay 4.6% to $6.9 Million for 2015
by
CEO's compensation increase reflects experience, performance

Bank set some targets to reflect technology spending, outlook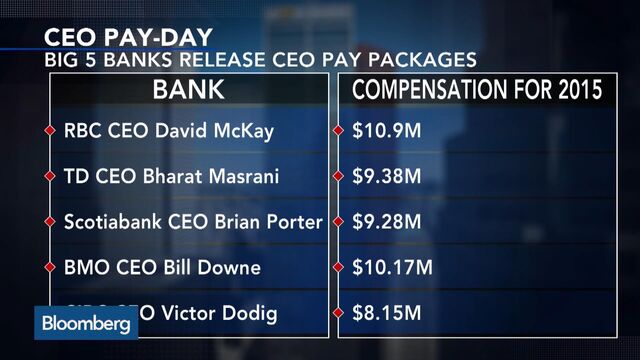 Bank of Nova Scotia, Canada's third-largest lender, awarded Chief Executive Officer Brian Porter C$9.28 million ($6.9 million) in compensation for fiscal 2015, a 4.6 percent increase from a year earlier.
Porter received C$1 million in salary and C$8.28 million in share awards, options and annual bonus for the year ended Oct. 31, the Toronto-based firm said Wednesday in a regulatory filing. Porter, 58, received C$8.87 million in compensation for 2014, his first year as CEO. Totals exclude pension values.
"Mr. Porter continued to demonstrate his strong commitment to shaping and executing the bank's long-term strategy," the company said in the filing. "The increase in total compensation is due to the increase in his equity target and award reflecting his experience in the role, as well as his performance."
Scotiabank posted annual profit of C$7.2 billion for fiscal 2015, down 1.2 percent from a year earlier, on lower earnings from Canadian banking and its capital-markets business. The bank said it had 4.8 percent earnings-per-share growth in 2015, below its 5 percent to 10 percent medium-term objective, while one-year return on equity was 14.6 percent, compared with its target of "14 percent plus."
Scotiabank said it set compensation targets for per-share earnings growth and operating leverage to just below its medium-term objectives in the year to reflect necessary increased investment in technology, redevelopment and reorganization costs, along with a more moderate economic outlook.
Before it's here, it's on the Bloomberg Terminal.
LEARN MORE