U.S. Stocks Climb as Energy Shares Rebound With Oil Before ECB
by and
Energy producers bounce after worst drop in six weeks

S&P 500 rises into the eighth year of bull-market run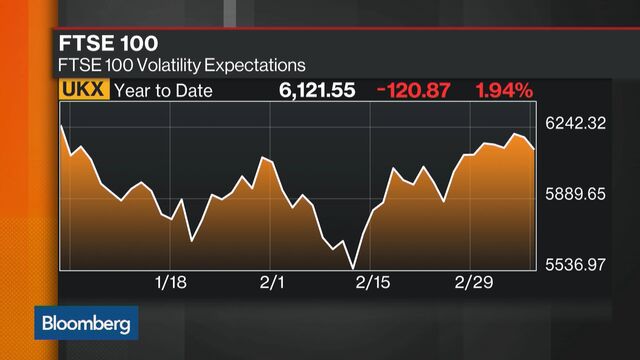 U.S. stocks rose, headed into the eighth year of a bull run amid speculation central banks will continue to provide stimulus to bolster sluggish global growth.
Energy companies led an advance as oil rallied, though equity gains were uneven in lighter trading before the European Central Bank meets tomorrow. The Dow Jones Industrial Average struggled to maintain its climb after rising more than 80 points. Chevron Corp. added 4.6 percent, while Nike Inc. slipped 2.5 percent and Goldman Sachs Group Inc. retreated 1.1 percent to weigh on the gauge.
The Standard & Poor's 500 Index rose 0.5 percent to 1,989.26 at 4 p.m. in New York, after the benchmark lost 1.1 percent yesterday, the most in two weeks. The Dow increased 36.26 points, or 0.2 percent, to 17,000.36 after briefly wiping out its gains. The Nasdaq Composite Index added 0.6 percent. About 7.5 billion shares traded hands on U.S. exchanges, 16 percent below the 2016 average.
"There's a lot of focus on tomorrow with the ECB and that's probably what has it a little bit quieter today," said Michael Antonelli, an institutional equity sales trader and managing director at Robert W. Baird & Co. in Milwaukee. "The market is waiting for a new catalyst. Rallies are looking to be sold right now by algorithms and computer-driven quants and the move from the downside is probably in the late stages."
Equities rebounded with crude oil before updates from the ECB on Thursday and the Federal Reserve next week that may provide more insight on the potential for further stimulus and the trajectory of interest rates. Speculation for additional moves from the ECB to boost growth, along with strengthening crude prices and improving U.S. data have helped support an equities rebound since mid February.
On the seventh anniversary of a bull market that has restored $14 trillion to stock values, investors are still worried about shrinking earnings, China's economic slowdown and uncertainty over interest rates. While the S&P 500 has surged almost 200 percent since the low on March 9, 2009, it is little changed in the past 18 months.

The equity benchmark halted its longest rally in five months yesterday. Still, the gauge has climbed 8.8 percent since a low last month amid a rebound in banks and commodity shares, trimming its decline this year to 2.7 percent from as much as 11 percent.
Doubleline Capital LP's Jeffrey Gundlach said the S&P 500 has about 2 percent upside and 20 percent downside, making for a lousy risk-reward trade-off. Betting on stocks is a "big losing proposition," he said Tuesday during a webcast, and the recent rebound is a "bear market rally." Gundlach runs the $56 billion DoubleLine Total Return Bond Fund with Philip Barach.
Market turmoil early this year, spurred by anxiety over the impact of weakening growth in China, led investors to lower expectations for further rate increases in 2016, though improving measures of the U.S. economy and the equity rebound have recently lifted bets. Traders are pricing in little chance of higher borrowing costs this month, while odds for a September move have risen to 61 percent from less than 35 percent two weeks ago.
Fed Watch
Fed officials have stressed the pace of rate increases, following December's first hike since 2006, will be gradual and data-dependent, though the policy makers will be closely watching what their foreign counterparts do -- and how markets react -- in mapping out the path for rates.
A report today showed wholesale inventories in January unexpectedly rose as sales showed a surprise decline. That pushed the inventory-to-sales ratio to the highest since the depths of the last recession, suggesting tepid demand is making it difficult for businesses to draw down inventories.
"People are waiting to see what comes out of the ECB tomorrow and for the S&P to show some conviction above the 2,000 level," said Michael James, managing director of equity trading at Wedbush Securities Inc. in Los Angeles. "There are clearly elevated expectations for something positive coming from Draghi tomorrow. The equity market continues to trade off the sentiment in energy and commodity pits and there's a little bit of a reversal today with oil trading better."
The Chicago Board Options Exchange Volatility Index fell 1.8 percent Wednesday to 18.34. The measure of market turbulence known as the VIX jumped the most in two weeks yesterday.
Nine of the S&P 500's 10 main industries increased, with energy rising 1.5 percent and technology stocks up 1 percent. Phone companies fell 0.3 percent as Frontier Communications Corp. dropped 6.8 percent after Citigroup Inc. analyst Michael Rollins downgraded the shares to sell from neutral. Consumer discretionary, financial and health-care shares were little changed.
Energy Rebound
Energy producers bounced from their steepest drop in six weeks as oil recovered amid data showing stronger demand for gasoline reduced fuel inventories. West Texas Intermediate crude rose 4.9 percent, topping $38 a barrel. The group gained for the sixth time in seven days after yesterday snapping the longest rally since November.
Nine of the ten biggest gainers today in the S&P 500 were energy companies, with Devon Energy Corp. and Chesapeake Energy Corp. leading the advance with gains of at least 6.8 percent. Miner Freeport-McMoran Inc. added 5.7 percent even after saying copper-output cuts spurred by lower prices won't be enough to end a surplus this year.
Along with Freeport-McMoRan, Dow Chemical Co. and LyondellBasell Industries NV helped boost the raw-materials group, rising at least 0.5 percent. Fertilizer maker Mosaic Co. and International Paper Co. added more than 1.9 percent.
Technology stocks also buoyed the S&P 500, after dropping the most in two weeks on Tuesday. The group added 1 percent on gains of at least 2 percent in Microsoft Corp. and Cisco Systems Inc. International Business Machines Corp. rose 1 percent to a three-month high.
Drug developers were also a drag, with the Nasdaq Biotechnology Index down 1.2 percent. Biogen Inc. and Amgen Inc. lost more than 2.1 percent, while Regeneron Pharmaceuticals Inc. fell 5.1 percent. The shares retreated as the government prepares to test a variety of alternative payment plans in an effort to lower costs for a $20 billion Medicare program that pays doctors to administer high-priced drugs for cancer and other conditions.
Nike fell for the fifth time in six days, while Under Armour Inc. lost 1.2 percent to weigh on a group of apparel and consumer durables companies in the S&P 500. Hanesbrands Inc., one of the strongest performers in the index since the bull market began seven years ago, slipped 1.3 percent.
Before it's here, it's on the Bloomberg Terminal.
LEARN MORE