Blowouts
Rubio Suffers Political Meltdown One Week Before Must-Win Florida
The Florida senator had a rough night on Tuesday.
By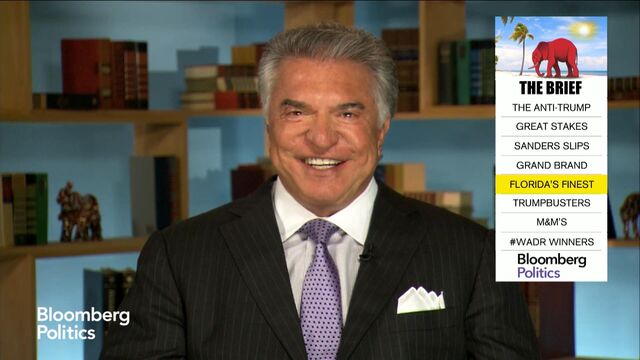 Marco Rubio has found the bottom of the Republican field just two weeks after making a strong move to try to rise to the top of it.
After finishing second in South Carolina and Nevada, the Florida senator took off the gloves and directly challenged Donald Trump, first on the debate stage and then in a zinger-filled series of campaign stops in which he hammered the front-runner as a "con artist" unfit for the White House and even mocked his "spray tan."
But Rubio failed to pick up a single delegate in Mississippi or Michigan on Tuesday, placing dead last with single digits in both states and disappointing the elite Republicans who rallied to his side as a way to block Trump from winning the nomination. He placed a distant third in Idaho and Hawaii.
The poor performance also raised doubts about whether Rubio could win his crucial home state of Florida at a time when he desperately needs to start winning. The March 15 winner-take-all contest awards 99 delegates and is one of the best chances to stop Trump from gathering the 1,237 delegates needed to clinch the nomination.
'A Big Punch'
Steve Schmidt, the chief strategist for John McCain's 2008 presidential campaign, said on MSNBC that Rubio's rationale for staying in the race was based on "a fantastical, alternate reality vision of the universe."
John Feehery, a Republican operative and lobbyist, called the results on Tuesday night "a big punch" for Rubio, the favorite of many party elites.
"There are already questions about his viability," Feehery said. "Now you have Michigan and Mississippi—it's part of a narrative. Everyone's wondering who's going to be the next to drop out. It's a game of musical chairs, and if you're not sitting in the chair when the music stops, you've got some problems."
Voters in Michigan, who picked Trump, Ted Cruz, and John Kasich over Rubio, dealt a particularly harsh blow to Rubio's argument that he was better-positioned to win blue and purple states—an upside pitched by his campaign as he lost a swath of southern states that voted last week. Rubio was also losing among voters who decided late, who have supported him in earlier contests.
Talk-radio host Erick Erickson, a leading voice among conservative activists who has been supportive of both Cruz and Rubio, wrote after the Floridian's "terrible night" that it's "time for the Republican Party to rally to Ted Cruz to stop Donald Trump."
The Rubio campaign didn't immediately respond to a message seeking comment on the results. Before the polls closed, he blasted a fundraising e-mail urging supporters to look forward, not back: "As today's voting results come in, the media will be focused on that, but one week from today, Floridians will go to vote, and deliver the winner the biggest single delegate haul of this entire campaign: 99 delegates."
Sunshine State of Play
With Rubio's hopes sinking and in desperate need of a life raft, his only hope for staying alive is Florida. The senator has promised a victory in his home state and his campaign is counting on that to boost him in future contests and help him overcome Cruz and Trump, who are far ahead in delegates.
In recent days as he has crossed the Sunshine State, Rubio has acknowledged he's trailing Trump and his campaign has called him an "undeterred underdog." He has compared the battle to his 2010 race against Republican establishment favorite Charlie Crist, when he closed a large gap and won.
Rubio has a long way to go, and little time to do it. A Quinnipiac University poll released Wednesday found Trump leading Rubio by 23 percentage points, 45-22. The poll was taken March 2-7 and had a margin of error of plus or minus 3.8 percentage points. A CNN poll released Wednesday also showed Trump with a commanding lead over Rubio in Florida, 40 percent to 24 percent. 
At a Sarasota rally Tuesday, Rubio said Trump doesn't have the temperament to be president and touted his policy prescriptions to roll back taxes, federal regulations and Obamacare. He said he's more qualified to be commander-in-chief.
"It cannot be someone like Donald Trump who does have the judgment or the wisdom, or the respect, that you need if you're going to be commander in chief of the United States," Rubio said.
During his victory lap on Wednesday, Trump said he didn't want to be involved in Rubio's personal decision about whether to stay in the race through Florida.
"If he runs and loses, I think he will never be able to do anything very big politically in Florida," Trump said on MSNBC. "I certainly don't think he would be considered by anybody as a vice president and I don't think he could ever run for governor or whatever he might run for in the future."
Facing Eternity 
In order to bounce back in Florida, Rubio will have to overcome doubts among Republicans and political analysts as he attempts to convince supporters, campaign staff and donors that he still has the power to win. 
"A week is an eternity in politics," said Kevin Wagner, who teaches political science at Florida Atlantic University. "Rubio has run here before and won statewide, so he knows what it takes. The fact that he didn't do well in other states doesn't mean he won't do well here. It's always nice to have momentum going into your home state, though."
Rubio's difficulties are being compounded by Cruz's last-minute push in Florida, where he announced the opening of 10 new offices late last week. Trump, too, is working to sink Rubio with a new TV ad in the Sunshine State that attacks him as a "corrupt" politician who's "defrauding the people of Florida."
In addition, a Politico report published Friday found that Rubio's campaign organization in Florida hadn't kicked into high gear until recently.
Rory Cooper, a former House Republican leadership aide, predicted that no candidate would secure the 1,237 delegates for the nomination before the July convention, and posited that he could try to defeat Trump on the second or third ballot.
"Rubio has one week, one town hall and one debate and plenty of early voting to make Florida his comeback state. Many say a week is a longtime in politics and this week will feel very, very long," Cooper wrote in an e-mail. "If Rubio wins Florida, the narrative changes completely, given he'll have wind behind him in a big state, a competitive delegate total and a map that could be favorable. Lots of ifs."
—With assistance from Terrence Dopp, James Nash, Michael C. Bender, Kevin Cirilli, and Toluse Olorunnipa.