Refugees Pile Up at Greek Border on Tightening Controls
By and
More than 13,000 are stalled at Greek-Macedonian common border

Hundreds more arrive each day to crowded camp, UNHCR says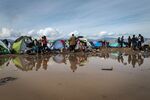 Thousands of refugees piled up at the border between Greece and the Republic of Macedonia, unable to continue northward as regional authorities tightened controls before European Union leaders finalize an agreement to stem the flow of migrants.
More than 13,000 people, mostly from Syria, Iraq and Afghanistan, were stalled at Greece's northern border, while hundreds more a day continued to arrive to a rain-soaked, muddy camp near the Idomeni crossing between Greece and the Republic of Macedonia, once part of Yugoslavia, said Babar Baloch, a spokesman for the United Nations Refugee Agency, in a phone interview on Wednesday. About 5,000 of them are children and many are sick after spending days in the open, he said.

"The situation is quite desperate, there's been no movement over the last two days" in the direction of EU states to the north, Baloch said, a day after the Geneva-based UNHCR said it's concerned about a "blanket return" of refugees, contrary to international law.
EU leaders are working out final details of an agreement with Turkey before a summit on March 17-18, prompting Balkan governments to take extra steps to halt the flood of refugees crossing borders since last year to flee civil war, economic deprivation and terrorism. The issue has shaken European governments from Germany to Greece and ignited an anti-immigrant backlash among electorates.
QuickTake Europe's Refugee Crisis

German Chancellor Angela Merkel warned history will judge Europe harshly unless leaders work together to accept refugees, even as she's buffeted by criticism at home and may suffer an electoral loss in regional ballots on Sunday. Slovakia's elections last week resulted in the inclusion of two nationalist parties in parliament, while Hungarian Prime Minister Viktor Orban is leading a regional charge against EU-wide burden-sharing plans.
Slovenia announced that it would start demanding valid passports and visas from midnight for all people seeking to cross into the passport-free Schengen area, as the western Balkan route from Greece to northern Europe was effectively closed to migrants. Serbia's Interior Ministry also said it would increase border controls with Bulgaria and the Republic of Macedonia, since Serbia can't become "a collection center for refugees."
In Hungary, the government will increase law enforcement presence at the country's borders after the cabinet declared a state of emergency on migration, Interior Minister Sandor Pinter told reporters in Budapest.
Europe's handling of the crisis "won't go well for us historically. I'm very sure of that," German Merkel said on Tuesday. While facing sliding poll numbers at home over her open-border policy, she still criticized some fellow EU members of turning away from people fleeing the war zones of Syria and Iraq.
"We were waiting for a final, comprehensive solution by the EU and I'm not sure we've got one," Serb Premier Aleksandar Vucic told reporters on Wednesday. Pledging support for more than 1,500 migrants currently in Serbia, he said the country still won't serve as "a parking lot" for refugees not wanted by other governments.
Closed Off
The barriers won't stop the flow as many will try to cross illegally, Slovenian Interior Minster official Bostjan Stefic told reporters in the capital Ljubljana.
"It looks like pretty much the Balkan route is closed for those seeking safety from the countries they are fleeing," mostly Syria, Iraq and Afghanistan, said Kelly Clements, the UN Deputy High Commissioner for Refugees. "The situation has changed quite substantially."
Macedonian police said 430 remained stranded on the Macedonia-Serbia crossing, illustrating the lack of coordination between individual states, many of whom were once joined as the Yugoslav Federation. Macedonian authorities halted all entry for migrants on Wednesday, Dejana Nedeljkovic said by phone.
Greek Situation
Almost 36,000 refugees were stranded in Greece, according to government data e-mailed Wednesday morning, with hundreds arriving every day. The number of people trapped in the country already exceeds the total capacity of hosting facilities, which is for 28,450 refugees, according to Greece's government. 
More than 130,000 migrants and refugees have crossed to Greek islands from Turkey this year according to the UNHCR, more than a tenfold increase from the same period in 2015. Hundreds have lost their lives trying to make the crossing.