Norway Wealth Fund Isn't Joining Global Stock Selloff, CEO Says
By and
Fund had return of 2.7% in 2015, worst performance since 2011

CEO says investment income will cover government withdrawals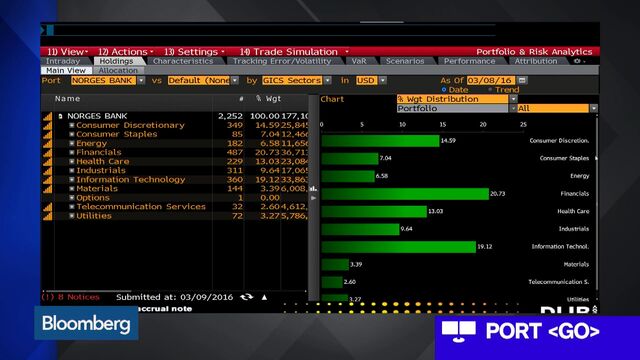 Norway's sovereign wealth fund, the world's biggest, hasn't been part of a global selloff in stocks this quarter, according to its chief executive officer, Yngve Slyngstad.
"We have not been participating in the selling, and we don't foresee" that a change of strategy will be necessary, Slyngstad said at a presentation of the fund's 2015 results on Wednesday in Oslo.

The comments follow evidence that wealth funds across the Middle East and central Asia have sold assets to plug deficits amid plunging oil prices. Speculation that petrodollar-stocked wealth funds were exiting assets has fed into market turmoil as stocks sank this quarter. The MSCI World Index is down more than 4 percent since the end of December.
The $830 billion Government Pension Fund Global returned 2.7 percent in 2015, its worst result in half a decade, after rising 7.6 percent the previous year. Stocks gained 3.8 percent, bonds rose 0.3 percent, and real estate investments grew 10 percent. The fund's holdings overall gained 334 billion kroner ($39 billion) last year.
Volatile Year
Slyngstad characterized 2015 as "a volatile year, with negative interest rates, currency turmoil, falling oil prices and weaker growth expectations for emerging markets." Returns were helped by the fact that the fund "made fewer, but larger real estate investments," he said.
Still, the fund managed to bounce back from two consecutive quarters of losses, catching a stock rally at the end of 2015 as it raised stakes in equities and sold off bonds. These gains were most likely erased this year amid renewed equity market unrest and as the oil-dependent Norwegian government made its first ever withdrawals.
Central bank Governor Oeystein Olsen and Slyngstad estimate that the government may withdraw 80 billion kroner from the fund this year and that 2015 may have been the last year with net inflows to the fund. The plunge in oil prices has choked off petroleum revenue to the government, which is also increasing spending to plug budget deficits.

'Modest Amount'
Slyngstad said the government withdrew 6.8 billion kroner in January, which corresponds to 80 billion kroner for the full year.
"That is still a very modest amount relative to the size of the fund and we have a cash flow from our investments which last year was 191.5 billion kroner," Slyngstad said. "So we more than cover it twice just by cash flow."
"We are in a privileged position that the fund is very large and the cash it generates is quite significant," he said.
This year could mark a "significant shift" in the fund's history, Olsen said on Wednesday. He also predicted that the returns delivered by the fund will be "increasingly important" to the Norwegian economy.
Inflows, which come from petroleum taxes, the state's direct ownership in oil and gas fields and dividends from Statoil ASA, amounted to 42 billion kroner last year, the fund said in its report.

Its biggest stock holdings were in Nestle SA, Apple Inc. and Roche Holding AG. Its largest government bond investments were in the U.S., Japan and Germany. The fund invested 44.2 billion kroner in unlisted real estate in 2015.
Since receiving its first capital transfer in 1996, the fund has been getting investment guidelines from the government. It held 61.2 percent in stocks, 35.7 in bonds and 3.1 percent in real estate at the end of 2015. That compares with a mandate to hold 60 percent, 35 percent and 5 percent in those asset classes, respectively.
The fund is lobbying the government to be allowed to boost its stock allocation and start investing in infrastructure and private equity to raise returns. Its real return target is 4 percent. Its 2015 return beat the benchmark set by the Finance Ministry by 0.5 percentage point.