North Korea Threatens South After Firing Ballistic Missiles
by
Launch comes after claim North has miniaturized nuclear bombs

U.S., South Korean military drills under way south of border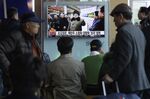 North Korea threatened "special" military steps against South Korea hours after firing short-range ballistic missiles into the sea off its eastern coast, raising tensions amid the Kim Jong Un regime's claim it can now arm rockets with nuclear warheads.
North Korea viewed all economic cooperation deals with South Korea null and would take "political, military and economic" steps to hurt President Park Geun Hye's government in Seoul, the regime's Committee for the Peaceful Reunification of Korea said Thursday. The country's troops were ready for a "preemptive strike," the committee said, without elaborating, in a statement released through the official Korean Central News Agency.
Earlier on Thursday, North Korea fired two ballistic missiles that flew about 500 kilometers (310 miles), according South Korea's Joint Chiefs of Staff. North Korea is banned from developing ballistic missiles under United Nations Security Council resolutions, including one passed last week over its fourth nuclear test in January and a long-range rocket launch last month.
North Korea routinely test-fires short-range rockets. The latest launch comes after Kim said in comments carried by KCNA Wednesday that he would retaliate with nuclear missiles if his country was attacked by the U.S. and South Korea during their ongoing annual military drills. Both the U.S. and South Korea dismissed his claim the regime has miniaturized nuclear bombs that can fit atop a ballistic missile.
"Our position has not changed," Peter Cook, spokesman for the U.S. Defense Department, told reporters. "The United States has not seen North Korea demonstrate a capability to miniaturize a warhead."
Kim ordered his troops last week to be ready to launch nuclear warheads at any moment as his military fired a volley of short-range projectiles into the sea. The threat came days after the resolution targeting North Korea's banks, mineral exports and cargo ships passed the UN Security Council.
South Korea announced unilateral sanctions against North Korea on Tuesday, a day after it began its Key Resolve and Foal Eagle military drills with the U.S. -- exercises that Pyongyang calls a rehearsal for war. The Committee for the Peaceful Reunification of Korea, which handles cross-border exchanges, said all South Korean assets on North Korean soil would be liquidated.
Before it's here, it's on the Bloomberg Terminal.
LEARN MORE