Most U.S. Stock Pickers Failed to Beat Index Last Year, S&P Says
by
Study finds the pattern persists over five and ten years

Managers who bought international equities fared better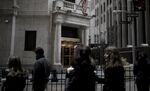 Chalk up another victory for indexing.
Sixty-six percent of mutual-fund managers who buy large U.S. stocks underperformed the benchmark Standard & Poor's 500 Index last year, according to a study by S&P Dow Jones Indices.
The report, released Wednesday, also found that 57 percent of mid-cap managers and 72 percent of small-cap managers also failed to do as well as the S&P benchmarks for mid-size and smaller stocks. Active managers fared worse during longer periods: In the past five years, 84 percent of large-cap managers came up short; over 10 years, 82 percent did.

The study comes at a time when funds run by stock pickers are struggling to hang on to investor money as customers turn to passive products that simply try to match the market. Last year, actively run U.S. equity funds suffered outflows of $174 billion, according to Chicago-based Morningstar Inc. Vanguard Group, best known for its low-cost index funds, attracted a record $236 billion in deposits.
Stock pickers looking outside the U.S. performed better. The majority of actively managed funds that invest in developed international markets and emerging market equities outperformed their respective benchmarks in 2015, according to the S&P study.
Before it's here, it's on the Bloomberg Terminal.
LEARN MORE