pursuits
Zara Owner Cuts Store Expansion Plans in Favor of Online
By
Inditex CEO: e-commerce to compensate for adding fewer stores

Retailer's shares rise as much as 4.2% on cheaper way to grow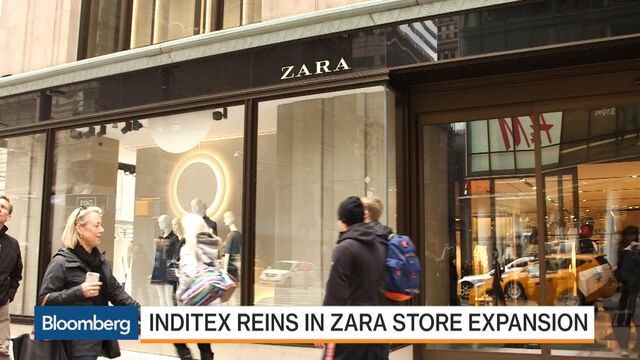 Inditex SA, the world's largest clothing retailer, reined in store expansion plans as the Zara owner delves deeper into online shopping as a cheaper way to boost sales growth.
The Spanish retailer aims to increase store space 6 percent to 8 percent in coming years, below a previous target of 8 percent to 10 percent, Inditex said Wednesday. Analysts applauded the shift, since online customers usually spend more, pushing the stock up as much as 4.2 percent.
"Inditex has made the right choice," wrote Jamie Merriman, an analyst at Sanford C. Bernstein. "While this may cause some raised eyebrows among investors, given the strong sales performance, we believe that Inditex is clearly able to grow market share with the less capital intensive e-commerce approach."
Since Inditex's 2001 initial public offering, the retailer has boosted its sales more than sixfold through aggressive expansion of its eight chains. Two-thirds of its 7,000 stores have been opened or revamped in the last three years. Inditex is now pulling back on the throttle in brick-and-mortar shops. The operator of the Bershka chain also reported its fastest annual profit growth in three years.
Inditex, the best-performing stock in the Euro Stoxx 50 Index since its IPO, rose 3.9 percent to 30.55 euros as of 12:40 p.m. in Madrid Wednesday. The 10-fold increase in the shares since founder Amancio Ortega took the company public 15 years ago gives him a net worth of $69.4 billion, making him richer than Warren Buffett, according to the Bloomberg Billionaires Index.

Online expansion will compensate for less space growth, Chief Executive Officer Pablo Isla said on a conference call. All eight brands will have e-commerce throughout the European Union and Turkey by the end of this year. Inditex ended 2015 with such operations in 27 markets and plans to add Taiwan, Hong Kong and Macau in 2016.
Online purchasers go to the stores for two-thirds of their returns, which fuels further purchasing, Isla said, adding that most product returns are due to size.
The operator of the Massimo Dutti and Bershka chains also said revenue gained 15 percent in the start of this quarter on an adjusted basis, maintaining last year's growth rate.
"Current trading is good news,'' said Anne Critchlow, an analyst at Societe Generale in London, who estimates that second-half same-store sales rose 10 percent in a period when warm winter in Europe eroded growth at Hennes & Mauritz AB. "Even under benign conditions, that would be a huge achievement. There's a stark contrast between Inditex and many of the other retailers we cover.''

Inditex has been cutting prices on products to help drive sales. In the U.K., Zara reduced prices on higher-end products by 17 percent and less expensive ones by 36 percent in the 18 months through November, according to Credit Suisse.
(
Updates shares in second paragraph.
)
Before it's here, it's on the Bloomberg Terminal.
LEARN MORE