Facebook Buys Masquerade to Challenge Snapchat's Rainbow Vomit
By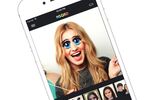 Facebook Inc. said it bought Masquerade, an app that puts fun filters, masks and special effects on selfies and videos like those popularized on the disappearing photo-sharing app Snapchat.
The company didn't disclose how much it paid for Masquerade, but said it would keep the application running and incorporate the technology for Facebook users.
"Over the past year we've focused on building out more creative tools for people on Facebook," the Menlo Park, California-based company said in an e-mail. "Masquerade has great technology to help us bring even more creative tools to Facebook, and help extend this work to video."
Facebook is making the move in part amid increasing competition from Snapchat Inc., where silly photo filters have been a major draw. Snapchat debuted the feature last year with one that animates a user's face so they vomit a rainbow while their eyes bulge, and more recently started using the filters as a revenue source. One of Masquerade's most popular features is "face swap," which lets people to trade faces with one another in photos.