Defiant Euro Bond Bears Hamper Rally Before ECB Policy Decision
by and
`Prepare for a short-term disappointment reaction': SEB

Swaps indicate a 10 bps deposit-rate cut is fully priced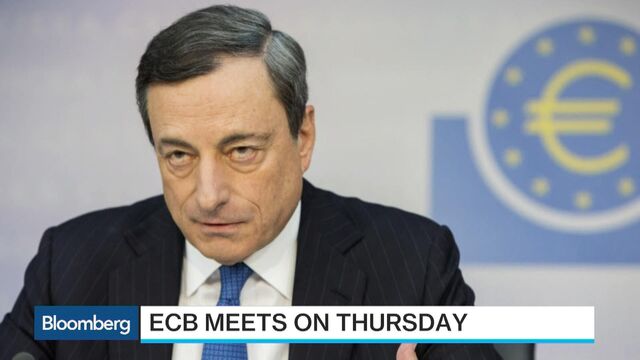 The near unanimous prospect of deeper negative interest rates in the euro area is failing to completely drive out the bond bears.
German 10-year bonds fell for the first time in three days Wednesday as European stocks rose, reducing demand for havens. Euro-area sovereign securities on average lost money in the past week, trailing behind U.S. and U.K. counterparts, even as swaps indicated that a 10 basis-point cut to the European Central Bank's minus 0.3 percent deposit rate is fully priced in for Thursday.

Benchmark 10-year bund yields have climbed since falling to a 10-month low on Feb. 29. That's a sign of caution among investors who were left nursing the biggest one-day losses on record when ECB President Mario Draghi unveiled a stimulus package in December that underwhelmed.
"The majority of economists are bullish and expect aggressive action, but you always find one or two skeptical voices saying the ECB will likely deliver less than what's priced in," said Marius Daheim, a senior rates strategist at SEB AB in Frankfurt. "We've been recommending that our customers rather scale back, or prepare at least for a short-term disappointment reaction, which would mean you'd reduce your exposure."
Benchmark German 10-year bund yields rose five basis points, or 0.05 percentage point, to 0.24 percent as of 4:09 p.m. London time, after dropping six basis points over the previous two days. The 0.5 percent security due in February 2026 fell 0.54, or 5.40 euros per 1,000-euro ($1,102) face amount, to 102.59.
Germany's two-year note yield increased three basis points to minus 0.534 percent after the nation sold 4 billion euros of the securities at the lowest yield on record at an auction. French 10-year bond yields climbed five basis points to 0.63 percent, while those on similar-maturity Irish debt rose two basis points to 0.89 percent.
Bond Returns
Holders of euro-area government securities lost an average 0.2 percent in the week through Tuesday, compared with a 0.1 percent return on Treasuries, according to Bloomberg World Bond Indexes. U.K. gilts earned 0.7 percent in the same period, while Japanese bonds gained 1.1 percent.
Portugal's bonds rose for the first time in four days even as the nation auctioned 621 million euros of debt due in July 2026. The 10-year yield fell two basis points to 3.15 percent. The Lisbon-based Treasury also allotted 594 million euros of five-year securities.
Traders are pricing in a 94 percent chance that the ECB will cut the deposit rate to minus 0.4 percent, and 6 percent odds it'll be lowered to minus 0.5 percent, according to data compiled by Bloomberg using swaps on the euro overnight index average. The calculation assumes the gap between Eonia rates and the deposit rate would remain in line with recent levels.
There could be "volatility ahead of tomorrow's ECB" announcement, said Martin van Vliet, senior interest-rate strategist at ING Groep NV in Amsterdam. A turnaround "after two days of risk off in equities" is causing the "slight selloff we see in bonds," he said.
Before it's here, it's on the Bloomberg Terminal.
LEARN MORE