Draghi Has Banking Chiefs Bemoaning ECB's Negative-Rate Push
by and
Deposits become money-losing proposition with rates below zero

Denmark's experience suggests negative rates aren't all bad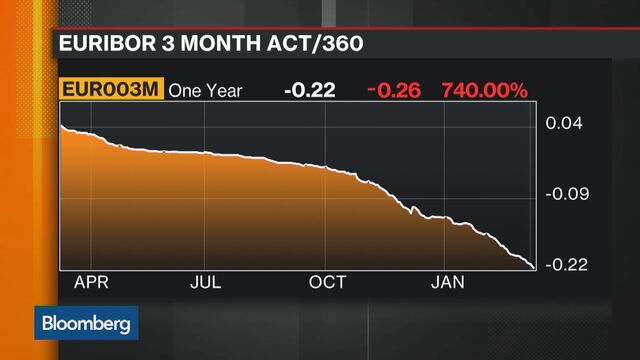 The euro area's bankers, battered by falling trading revenue and weak profitability, are predicting more pain as the European Central Bank gets ready to cut interest rates further below zero.
QuickTake Negative Interest Rates
While lenders managed over the past 18 months to counter the impact of the ECB's push into negative territory, executives said a deeper descent threatens to upend banking's centuries-old model of safeguarding deposits and charging interest on loans. In a world of subzero rates, depositors are charged and credit is almost free, with the goal of spurring economic growth and inflation.
"We can cope with the current interest-rate environment or even a bit lower," Gerrit Zalm, chief executive officer of ABN Amro Group NV, said in an interview in Shanghai last week. "But if we were really going into the very negative interest-rate environment, a lot of banks including us will have a difficult period."
In an increasingly urgent effort to stave off deflation, the ECB will probably cut its deposit rate from minus 0.3 percent and step up its 60 billion-euro ($66 billion) monthly bond-buying program, a Bloomberg survey of economists shows. The rate decision will be announced at 1:45 p.m. in Frankfurt on Thursday, and President Mario Draghi may reveal further measures in his press conference 45 minutes later.
Costly Deposits
By charging for idle cash, the ECB intends to reduce market borrowing costs and encourage lending. The problem for banks is that they can't easily pass the cost onto retail clients for fear that they'll withdraw their savings, which are a crucial source of funding and make up the bulk of deposits. That threatens to erode banks' main profit driver, the gap between their cost of funding and their revenue from lending. The further rates fall, the greater the pressure.
"Putting hope in negative rates has to come to an end," Wolfgang Kirsch, CEO of Germany's DZ Bank AG, told reporters in Frankfurt last week. "You have to look at what it means for the wider financial industry."

The situation is putting bankers in the unusual position of turning away deposits. Stuart Gulliver, CEO of HSBC Holdings Plc, said the London-based firm had begun discouraging banks and non-bank financial institutions from depositing with them in the euro area.
The challenge of ever-lower rates comes as the region's biggest banks are already overhauling their businesses and firing staff to lift profitability and meet tougher capital and regulatory requirements. More pressure on profits means more pruning is likely.
Earnings Issue
Deutsche Bank AG posted its first annual loss since 2008 last year after writing down the value of its securities unit and consumer-banking divisions. Commerzbank AG, Germany's second-biggest bank, scrapped profitability targets for 2016, while Societe Generale SA of France indicated it may miss its goal for returns this year.
"You can cut and cut and cut," said David Moss, who helps to oversee more than $237 billion of assets as head of European equities at BMO Global Asset Management in London, when asked how banks address the rates issue. Low and negative rates "ultimately hurt the banks and they're the ones that need to make money to lend it out again," he said. "They don't have a capital issue any more, they have an earnings issue."
A quarter-point cut in the ECB's deposit rate would lower earnings per share by as much as 4 percent for European banks, analysts at Credit Suisse Group AG estimated. Goldman Sachs Group Inc. analysts forecast an EPS impact for the banks most reliant on deposits of as much as 10 percent for each 10 basis point reduction in the rate. A basis point is a hundredth of a percentage point.

The prospect of deeper subzero rates contributed to a slump in banking shares. The Euro Stoxx Banks Index, which includes 30 lenders from the euro area, has dropped about 16 percent this year, more than twice the decline in the wider Stoxx Europe 600 Index.
"Margins are going to be squeezed, so banks have to find ways to go around these negative rates," Lorenzo Bini Smaghi, Societe Generale's chairman, said in an interview on Bloomberg TV on Tuesday. Lenders may "charge fees or diversify the kind of products they sell to the clients. It will will incentivize a new relationship between clients and banks."
Not All Bad
"You just breathe the words negative interest rates and that in itself causes a decline in a lot of these financial-service companies," David Herro, chief investment officer of Harris Associates, which manages about $123 billion, said in an interview on Bloomberg TV.
There's some evidence concerns are overblown. In Denmark, where interest rates have been mostly negative for almost four years, the banking system had its most profitable year since 2008, Lars Rohde, the governor of the central bank, said in a Feb. 28 interview.
Lenders there benefited from fewer bad loans, higher fees as customers moved into asset management accounts and a tiered system that meant they only had to pay interest on a portion of their central bank deposits. The ECB is weighing a similar measure to soften the blow on banks, according to people familiar with the matter.
That could reduce the "punitive impact" on banks' profitability while weakening the euro, which helps to stoke inflation, Stefan Schneider, Deutsche Bank's chief international economist, said in an interview on Bloomberg TV.
The Swiss central bank has kept its deposit rate at a record low of minus 0.75 percent since January 2015. It will hold its next decision on March 17.
In the euro region, where the ECB first pushed the deposit rate into negative territory in mid-2014, net interest income at 12 of the largest banks rose 5.5 percent last year as lending volumes increased, data compiled by Bloomberg show.

The ECB is "well aware" of the potential impact on banks, Executive Board member Benoit Coeure said last week, adding that policy makers are "studying carefully the schemes used in other jurisdictions to mitigate possible adverse consequences." Draghi has also sought to stoke inflation with cheap loans to banks and the bond-buying program.
While faster growth would help lenders, banking chiefs fret the medicine of negative rates may be worse than the disease -- and probably won't work anyway.
"If interest rates go more negative, then banks make a bigger loss on the right-hand side of the balance sheet, on the deposits," John Cryan, Deutsche Bank's co-CEO, said at a conference in Frankfurt last week. "You have to compensate by making more profit on the other side -- this means charging more for credit. That's exactly what central bankers are trying not to do."
Before it's here, it's on the Bloomberg Terminal.
LEARN MORE