Deutsche Post Stands by Growth Targets as Amazon Threat Looms
By
German mail operator sees Amazon's efforts limited to `niches'

Deutsche Post sticks to forecast for Ebit growth through 2020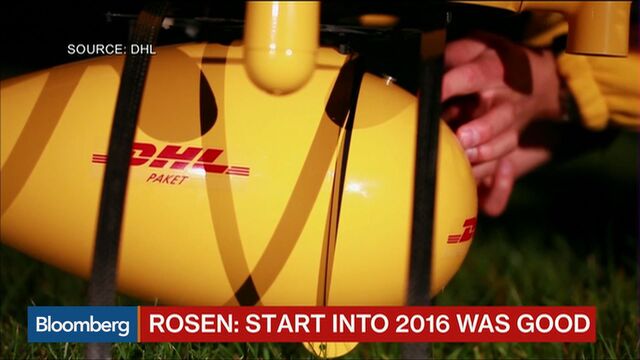 Deutsche Post AG stood by profit targets through the end of the decade, dismissing the threat posed by customer Amazon.com Inc.'s expansion into parcel deliveries.
After cutting profit forecasts twice last year, earnings before interest and taxes will be in a range of 3.4 billion euros ($3.75 billion) to 3.7 billion euros in 2016, and rise more than 8 percent annually on average through 2020, the Bonn-based mail operator said Wednesday. Plans to return more than 2 billion euros to investors through dividends and a stock buyback are "an expression of confidence" about business in coming years, Chief Financial Officer Larry Rosen said in a Bloomberg Television interview.
Amazon is looking at building its own distribution centers in Germany, raising concerns among analysts at Credit Suisse and JPMorgan Chase & Co. that the move poses a competitive risk to Deutsche Post as the Internet retailer poaches the most lucrative business. Deutsche Post executives on Wednesday downplayed the concerns.
The "most likely scenario" for Amazon "is to participate in some niches of the parcel market, not setting up a full network like we have," Juergen Gerdes, head of Deutsche Post's parcel and electronic-commerce operations, said at a press conference. "We are very relaxed and look forward to further cooperation" with one of the German company's biggest customers.
The company, which also owns the DHL express and logistics brand, generated 1.1 billion euros in Ebit last year at its German mail operations, which includes e-commerce and parcel handling for the likes of Amazon. That was equivalent to nearly half of the group's operating profit. The volume of packages that Deutsche Post transported in the country jumped 9.4 percent in the fourth quarter and 8.7 percent for the full year.
Deutsche Post fell 1.8 percent to 22.88 euros at 5:07 p.m. in Frankfurt. The stock has dropped 12 percent this year, valuing the mail operator at 27.7 billion euros.