Credit Agricole Seeks Annual Profit of $4.6 Billion in 2019
by
Sees annual sales growth above 3% at savings-management unit

Bank sets goal of 900 million euros in annual cost savings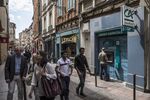 Credit Agricole SA, France's third-largest bank by market value, plans to increase its annual profit to more than 4.2 billion euros ($4.6 billion) in 2019 by cutting costs and speeding growth in insurance and asset management. The company also confirmed its targets for full-cash dividends.
Credit Agricole aims to generate 900 million euros in annual gross cost savings as it streamlines some businesses and invests in others, the lender said in a statement on Wednesday, ahead of a presentation to investors. The company, based outside of Paris, had 2015 net income of 3.5 billion euros, the most in eight years. The profit target for 2019 exceeded the 3.8 billion-euro estimate by Jean-Pierre Lambert, an analyst at Keefe, Bruyette & Woods Ltd.
"These goals are reasonable," said Arnaud Scarpaci, who helps manage 300 million euros at Montaigne Capital in Paris and doesn't own shares in Credit Agricole. "European banks are forced today to change their business model" to respond to extremely low interest rates and a wave of digital change that's transforming client relationships, he said.

Chief Executive Officer Philippe Brassac, 56, who took the top job in May, is betting Credit Agricole can keep growing in its main European markets even as sluggish economies and record-low interest rates constrain banks' profitability. Credit Agricole commands the largest share of lending in France, its insurance operations are among the country's biggest and it owns a majority stake in asset manager Amundi SA.
'Full of Threats'
"The environment is full of threats," Brassac told journalists. Credit Agricole's priority is for "prudence" in improving its performance and pursuing organic growth, with some acquisitions possible in businesses like asset management.
The shares rose as much as 3.5 percent and were trading at 10.09 euros at 11:54 a.m. in Paris, up 2.9 percent, helping pare losses this year to 7.9 percent. Last month, they had their biggest one-day jump in more than four years after Credit Agricole said it will sell stakes in some three-dozen French regional banks to shore up capital and allow for all-cash dividends.
The 18 billion-euro deal will increase the common equity Tier 1 ratio, a gauge of financial strength, to 11 percent as of the start of 2016, a year earlier than planned, the company said Feb. 17. The bank expects to complete the transaction by the third quarter.

Credit Agricole reiterated that it's aiming for a return on tangible equity, a measure of profitability, of more than 10 percent by 2019. The transfer of the stakes in the regional banks will reduce earnings per share by 9 percent while cutting annual profit by about 470 million euros, based on 2015 results, Deputy CEO Xavier Musca said last month.
The lender set a goal for average annual sales growth of more than 3 percent through 2019 at its savings-management unit, which includes insurance, asset management and private banking.
Credit Agricole wants to keep growing revenue by about 2 percent annually at its corporate- and investment-banking and custody-services businesses as it adjusts capital use and seeks cost savings. Within the corporate and investment bank, it plans to cut 12 billion euros of assets weighted by risk to counter the effects of harsher regulation, while partly reallocating capital to flow businesses.
Revenue at the Cariparma consumer-banking unit in Italy is seen rising about 3 percent on average through 2019, while sales at the LCL branch network in France should show an average annual gain of about 0.5 percent, according to the company's targets. LCL is reducing the number of its branches by more than 10 percent to about 1,600 in 2019 as it focuses on urban areas from Paris to Marseille and offers more digital services.
Before it's here, it's on the Bloomberg Terminal.
LEARN MORE