Canada Dollar Reaches Four-Month High With Central Bank on Hold
By
Currency outperforms developed nations as crude oil rebounds

Central bank sees balanced risks for growth and inflation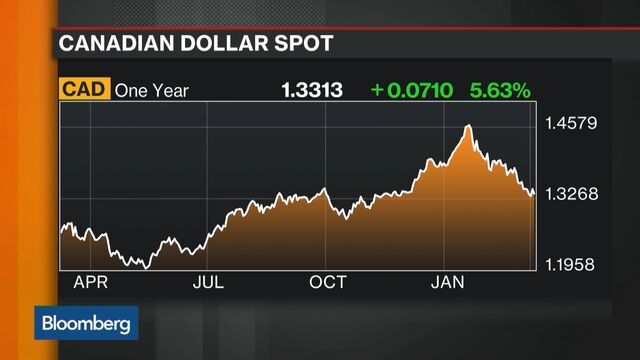 The Canadian dollar reached its highest level in four months after the central bank kept its benchmark interest rate unchanged and said an economic recovery led by non-energy exports remains on track even after a sustained run of strength in the currency.
The currency has been the top performer in the developed world since the central bank refrained from cutting interest rates at its Jan. 20 meeting as the price for crude oil, until last year the nation's largest export, rebounded from a 13-year low. 

That's forced those betting against Canada's currency into their fastest retreat since July 2014 during the last five weeks. It's trading almost 6 Canadian cents stronger than the level forecasters expect for mid-year, and 4 cents stronger than where it's projected to end the year, according to the median estimates of strategists surveyed by Bloomberg.
"The Bank of Canada isn't going to step in front of the Canadian dollar," said Jack Spitz, managing director for foreign exchange at National Bank of Canada in Toronto. "They're not uncomfortable with the value of the currency where it is."
The loonie, as the Canadian dollar is known for the image of the aquatic bird on the C$1 coin, rose 1.2 percent to C$1.3248 per U.S. dollar at 5 p.m. in Toronto., the strongest since Nov. 5. One loonie buys 75.45 U.S. cents.
The central bank kept the rate on overnight loans between commercial banks at 0.5 percent, saying the past depreciation in the currency is still contributing to inflation and the non-energy exporters that benefit from that weakness are showing momentum. All 26 economists surveyed by Bloomberg predicted no move in the decision Wednesday from Ottawa. 
Benchmark prices for North American crude, until last year Canada's largest export, are trading at $38.18 per barrel, up from a February low of $26.05.