Poloz Keeps Key Rate at 0.5%, Sets Stage for March 22 Budget
by
Bank of Canada says risks to inflation are roughly balanced

Average exchange rate, oil prices in line with BoC assumptions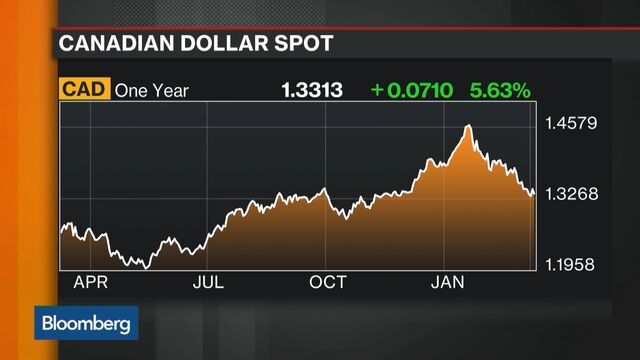 The Bank of Canada kept its benchmark interest rate unchanged as it waits to see how much fiscal stimulus is coming from the federal government.
Policy makers kept the rate on overnight loans between commercial banks at 0.5 percent, as economists had unanimously predicted, in the decision Wednesday from Ottawa. The bank will incorporate government spending into its April quarterly estimates when Finance Minister Bill Morneau releases details in the March 22 budget, they said in the accompanying statement.
It's the fifth straight time the bank has decided to stand pat on rates, after cutting twice last year to buffer an oil shock. Swaps markets are assigning about a one-in-three chance of another cut by the December meeting as the economy struggles to overcome the hit from crumbling business investment.
Governor Stephen Poloz has indicated an acceleration in non-energy exports and a program of deficit spending from the newly-elected Liberal Party may still be enough to prevent further monetary easing.
Stimulus Focus
"The key point for the Bank of Canada is to work through the political points
and really focus on how much stimulus is coming quicker, how much of it is
pushed off later on," Robert Spector, portfolio manager at MFS Investment Management Canada, which has $396 billion of assets under management, said by phone from Toronto. The recovery could still be slowed by low oil prices or weaker U.S. demand, he said.
"The Bank's Governing Council judges that the overall balance of risks remains within the zone for which the current stance of monetary policy is appropriate," Poloz and his deputies said in the statement, adding non-commodity exports that are sensitive to Canada's lower dollar are "gathering momentum."

Economic growth and the inflation outlook remain in line with forecasts the bank made in the January Monetary Policy Report, and Canada's dollar and crude oil prices have averaged close to assumed levels, the policy makers said.
The currency appreciated after the statement was released, advancing 1.1 percent to C$1.3237 per U.S. dollar at 12:37 p.m. Toronto time. It's up about 10 percent since the last time Poloz stood pat in January. It had depreciated 20 percent in the two years before that.
Morneau signaled last month his government will deliver a C$30 billion deficit, and the rookie finance minister hasn't ruled out a bigger shortfall. Still, seven of 19 economists in a Bloomberg survey last week predict fiscal stimulus won't be adequate to forestall more softening, and more rate cuts are coming this year.
"Fiscal stimulus from Ottawa is no miracle growth cure for the economy," said Doug Porter, chief economist in Toronto at BMO Capital Markets, and among those forecasting more cuts in 2016. "Any relapse in oil prices will simply expose the underlying soggy growth outlook."
The inflation rate "is evolving broadly as anticipated" and may slow in the months with "material excess capacity" in the economy, the Bank of Canada statement said. Risks to inflation "are roughly balanced," policy makers said. Inflation accelerated to the Bank of Canada's 2 percent target in January for the first time since November 2014, as the weaker dollar made imported food more expensive.
Before it's here, it's on the Bloomberg Terminal.
LEARN MORE