On Top of Jail Time for Fatal Mine Blast, Blankenship Now May Face $28 Million Fine
by
Miner seeks payment from ex-Massey CEO over fatal 2010 blast

Former coal executive to be sentenced April 6 for misdemeanor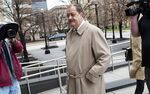 Donald Blankenship, the former coal baron looking at up to a year in prison for flouting mine-safety rules, may be facing an even bigger penalty: $28 million in restitution tied to a fatal explosion six years ago.
Alpha Natural Resources Inc. asked a federal judge in West Virginia to order Blankenship to pay legal expenses and fines stemming from the 2010 Upper Big Branch mine blast, which killed 29 workers. At the time of the incident, Blankenship was chief executive officer of Massey Energy, owner of the mine. Alpha bought Massey in 2011. Jurors in Charleston, West Virginia, convicted Blankenship in December of a misdemeanor conspiracy charge of ignoring safety standards.

While federal prosecutors are backing Alpha's request, Blankenship is fighting it.
"This is an unprecedented attempt to add Draconian penalties to an offense that Congress has classified as a misdemeanor, and Alpha has no right to recover any of these expenditures from Mr. Blankenship," the former executive's lawyers said in a March 7 court filing.
Steve Hawkins, a spokesman for Bristol, Virginia-based Alpha, declined to comment Tuesday on the restitution request.
April Sentencing


Jurors concluded that Blankenship orchestrated a conspiracy to ignore mine-safety standards to speed up coal production. The verdict was a rare instance of the U.S. holding a chief executive accountable for fatalities in the workplace. Blankenship, who was acquitted of two counts of securities fraud, has vowed to appeal the conviction.
He's slated to be sentenced April 6 by U.S. District Judge Irene Berger and faces a maximum sentence of a year in jail plus a fine. He contends the fine is capped at $250,000, but the government says Berger can rely on a law that sets the criminal penalty based on twice the financial gain or loss generated by the conspiracy.
In court filings, prosecutors said they support Alpha's request to recoup more than $13 million for costs of its internal investigation of the Upper Big Branch disaster, $4.3 million to cover legal expenses rung up by employees who cooperated with a government probe and prosecution of Blankenship and $10 million in fines paid by Alpha over the incident.
Blankenship's Response
Blankenship countered in court filings that Alpha doesn't qualify as a victim entitled to compensation and that allowing such an award would trample on the former coal executive's constitutional rights.
Alpha and Blankenship have had other financial entanglements over the years. A Delaware judge ordered the mining company last year to pay about $6 million in legal fees as part of his defense to the criminal charges.
Alpha acquired Massey in 2011 for $7.1 billion in cash and stock, creating a company featuring 110 mines and coal reserves of about 5 billion tons. The acquisition soured after energy prices fell and the U.S. imposed tougher regulations.
Alpha filed for bankruptcy protection in August, the same day President Barack Obama announced sweeping rules to cut coal use at U.S. power plants to combat climate change. The U.S. Supreme Court has suspended those regulations while coal companies challenge their legality. The company said Tuesday it plans to sell its top-producing mines and wrap up its Chapter 11 case by June.
The criminal case is U.S. v. Blankenship, 14-cr-00244, U.S. District Court, Southern District of West Virginia (Charleston).
Related ticker:
ANRZQ US (Alpha Natural Resources Inc.)
Before it's here, it's on the Bloomberg Terminal.
LEARN MORE