Style
Abercrombie's New Clothes Are Actually Great—and All Grown Up
A collection from a new creative director signals a fresh direction for a long-suffering brand.
by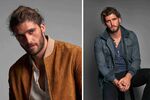 Say goodbye to the Abercrombie & Fitch moose.
The beleaguered brand, which has had some serious ups and downs since its popularity peaked in the mid-aughts, has a whole, new look. The brand has launched its first season of a menswear collection called A&F Men's under the creative direction of Aaron Levine, the former designer for Club Monaco.
While the collection feels fresh and different from recent years—when the infamous logo and distressed slogan tees ruled store shelves—this spring/summer clothing line nonetheless recalls the brand's sporting goods heritage. You'll find a rugged explorer sensibility, as well as functional textured fabrics such as suede and linen. The colors are deep but muted, with indigo, faded green, and oxblood hues. Here are the six standout items that represent the new aesthetic.
Cinnamon Suede Bomber 

A handful of great pieces of outerwear run throughout the collection, including a safari field jacket and a nylon trench, but this suede bomber is the most fun. It's also among the most expensive. ($600, abercrombie.com) 
Nautical Stripe Knit

This Breton-stripe sweater has just enough idiosyncrasies to make it a good addition to your closet, even if you have others like it. (Available in stores, not online.) 
Safari Green Linen shirt

White oxfords are so February 2016. Now that it's March (and warmer), swap out that plain shirt for one with some color, such as this deep green button-down in light, cooling linen. (Available in stores, not online.) 
Denim Short Sleeve Shirt

If you don't own a short-sleeve denim shirt by now, here's your chance. The color (or wash, as they say in the denim world) is a nice, flexible shade, so you can wear it with swim trunks or a pair of chino pants. (Available in stores, not online.) 
Burgundy Tracksuit Pants

One could argue that Abercrombie & Fitch was on to the athleisure trend before many of its competitors. Then the brand embraced a craze of putting its name in huge letters all over everything; for years, it couldn't shake the habit. This retro-inspired pair of track pants has caught up with the times, offering a restrained vibe and tapered silhouette in faded burgundy. (Available in stores, not online.) 
Indigo-Dyed Shorts 

Consider these your weekend polo shirt's best friend. ($60, abercrombie.com) 
Moti Ankari is the associate market editor for Bloomberg. Follow him on Twitter @motiankari and Instagram @themetroman, or contact him at mankari@bloomberg.net.
Before it's here, it's on the Bloomberg Terminal.
LEARN MORE