Photographer: Kiyoshi Ota/Bloomberg
Wine Tourism Could Breathe Life Back Into Japan's Disaster Zone
Locals hope wine revives tourism, broader economy in Tohoku, Japan
By and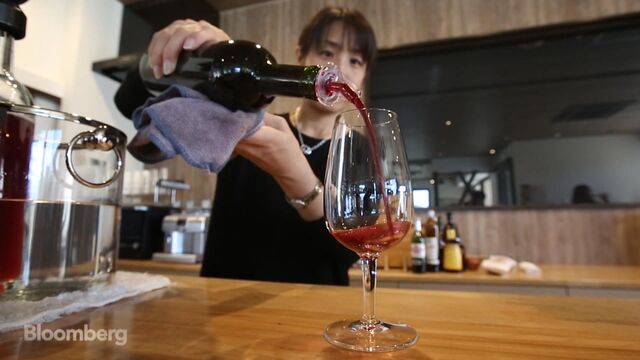 If recreating the Napa Valley isn't hard enough, try doing it in a part of Japan that's been rocked by an earthquake and tsunami, and spurned because of a nuclear disaster.
Akiu Winery, near Sendai, the capital of Miyagi prefecture that's about 300 kilometers (186 miles) north of Tokyo, isn't deterred by those challenges. Opened in December with financial help from the Mitsubishi Corp. Disaster Relief Foundation, it aims to pioneer a wine tourism-led revival in Japan's northeast, which was already one of the country's most economically depressed regions even before catastrophe struck.
While Miyagi — and Japan for that matter — lack an abundance of stony, limestone soils and dry weather favorable for grape-growing, there is growing demand in the country for locally made wines and a commitment from the government to inject money in the area, still floundering five years after the Great East Japan Earthquake and Tsunami. Wine is seen as a way to not only return abandoned land to productivity, but bring back another economic linchpin largely absent since the March 11, 2011, disaster: people.
'Wine Boom'

"If you make one winery, there is a ripple effect," said Akiu Winery operator Chikafusa Mohri, an architect who spent his career designing hot-spring baths. "People come and support the local restaurants and industries. Especially right now, when Japan is undergoing a wine boom."
Sales of sparkling and still wine made from grapes reached 324 billion yen ($2.9 billion) in 2014, a 35 percent jump on 2009 levels, market researcher Euromonitor International said in a report in October.
Sales of domestically produced wine hit a 10-year high and consumption of imported wine reached a record in 2013, according to a study published by Kirin Holdings Co. last year. That's prompted a flurry of corporate interest.

Asahi Group Holdings Ltd. agreed to buy wine seller Enoteca Co. in February 2015, creating Japan's second-largest wine group with $290 million in annual sales. Sapporo Holdings Ltd. expanded sales of its Japanese-produced Grande Polaire wines last year. Over the past few years, Suntory Holdings Ltd., which first made wine in Japan more than a century ago, has promoted its "Tomi no Oka" series as being made from 100 percent Japanese grapes.
Akiu's winery and vineyard, which will total 3-hectare (7 acres), is nestled beside a forest on former tobacco-growing land. Pinot gris, merlot and gewurztraminer grapes were planted in 2014 and 2015, and will start being picked in September.
9-Meter Waves
While the plot wasn't directly hit by the tsunami that followed the magnitude 9 earthquake, some of the most shocking images of the calamity were taken 15 kilometers away in the city of Natori, where crumpled homes, farms and buildings were swept up by 9-meter-high waves and turned into a wasteland.
The epicenter of the temblor that killed almost 16,000 people was off the coast of Tohoku, the northeastern region of the main island of Honshu that includes Miyagi and Fukushima. Profit at most of the region's companies is still below March 2011 levels, government data show.
In Miyagi, the prefecture where the economic impact was worst, 134 businesses went bankrupt as of February 2016 due to the disaster, data compiled by Tokyo Shoko Research show.
The Japanese government spent 25.5 trillion yen ($224 billion) from 2011 to 2015 trying to revitalize the region, according to the Reconstruction Agency. Another 6.5 trillion yen is earmarked for spending by 2021.
Nuclear Fallout

Just last year, business from overseas visitors to the Tohoku area finally came back to levels seen before the disaster. But the area is still losing out on a boom that much of the rest of the country has enjoyed: A weaker yen and relaxed visa rules have more than doubled foreign tourism to Japan from 2010 to 2015.
Parts of the region were abandoned due to the meltdown at the Fukushima nuclear power plant that followed the earthquake and tsunami, leading to the forced evacuation of about 160,000 people. Most of the evacuated areas remain uninhabitable.
Despite there being no noticeable increase in airborne radiation in Miyagi since the meltdown, the prefecture is plagued by stigma from Fukushima. Gen Amano, the head of revitalization for Sendai, Miyagi's capital, says the Akiu Winery, located more than 50 kilometers from the wrecked nuclear power station, may be a remedy for that.
Dispelling Rumors
"There is a problem of tourists not coming to Sendai, Tohoku, or any region affected by the earthquake and tsunami, and it has to do with rumors of danger from the nearby nuclear disaster," Amano said in a telephone interview. "I want to promote the region through Akiu's wine, and dispel these rumors."
Akiu, 14 kilometers from Sendai, is known for having some of Japan's oldest hot springs, dating at least 1,400 years. In May, the town will host a ministerial meeting of G7 nations.

Tucked in a forest surrounded by waterfalls, Akiu attracts mostly tourists over 50, according to Tsukasa Satoh, an official at the Akiu Association of Hot Springs and Ryokans. He worries that without luring younger people, Akiu could be forgotten.
"Fewer tourists are coming to Tohoku, and even fewer are coming to Akiu," he said. With Tohoku predicted to lose a quarter of its population by 2040, there is an urgent need for new industries, businesses and ideas.
That's where the Akiu Winery comes in.
Its first wines were made from grapes grown in other areas of Tohoku and sold through local restaurants, markets and hotels. Some liquor stores have started carrying the wine, which goes for 2,200 yen ($19) a bottle.
'Wine Town'
"Many customers have been asking about the wine, and some hot springs are selling it," Satoh said. "There is real opportunity for Akiu to become a wine town."
The winery will help train others interested in entering the wine business. Yuto Hayasaka, who lives nearby and owns swathes of unused farmland, aims to begin planting grapes this year with the goal of opening his own winery with his father, he said.
"A winery isn't only a place for wine-making — there is a special charm that people come for," said Hayasaka. "When I studied abroad in the U.S., I went to Napa Valley and was affected by its charm. After the March 2011 earthquake and tsunami, I knew I had to make a winery in Miyagi prefecture."
Before it's here, it's on the Bloomberg Terminal.
LEARN MORE