United Board Fight Breaks Out as Activists Turn to Bethune
by and
Former Continental chief to lead insurgent director slate

Airline says `hostile action' will distract from CEO's plan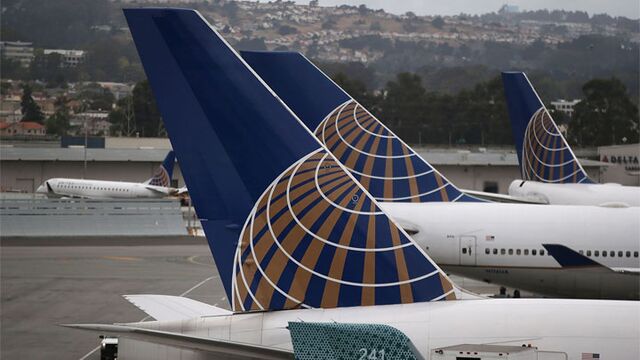 Two United Airlines shareholders will nominate Gordon Bethune, renowned for resurrecting merger partner Continental, to head an insurgent director slate as the carrier's top executive returns from a heart transplant.
Hedge funds Altimeter Capital Management LP and PAR Capital Management Inc. are backing six new board members led by Bethune, the former chief executive officer of Continental Airlines, which combined with United in 2010. The Tuesday announcement came a day after United Continental Holdings Inc. named three independent directors of its own -- and just as CEO Oscar Munoz is set to return from medical leave.  
Munoz's October heart attack and subsequent transplant highlighted leadership gaps at United, with a CEO and directors who have little airline experience. Munoz took over the carrier in September, leaving railroad CSX Corp., and fell ill about a month later. The investors see Bethune as providing a steady hand while Munoz recovers and masters the company.
During the chief executive's medical crisis, United was a "ship without a tiller," Bethune said in an interview Tuesday. "They're not against the management or Oscar," he said, explaining that the funds are angry "about the board not being responsive to shareholders."

The developments set up a boardroom brawl as Munoz works to mend labor relations and catch up with Delta Air Lines Inc. and American Airlines Group Inc. in on-time arrivals and profit margins. A proxy fight could resonate with investors dismayed by United's stock performance, lack of succession planning and the board's radio silence immediately following Munoz's heart attack.
"The activists have a good chance of winning the board seats because the company has performed badly and the board botched the CEO absence episode," Erik Gordon, a professor who specializes in entrepreneurship at the University of Michigan's Ross School of Business, said by e-mail.
The two Boston-based funds, which control 7.1 percent of United, are heavy investors in U.S. carriers and don't have a history of activism. They had been in talks with management over steps to bolster United's board, but disagreed over the shareholder ultimatum that Bethune replace Henry Meyer III as nonexecutive chairman.
'One Guy'
"You can't be effective as one guy unless you come in as chairman," said Bethune, 74. "I would not go, nor think about going in, just as a board member. I don't need a job."
The funds were prompted to act because of concerns with United's financial performance and the board's decision making, Altimeter CEO Brad Gerstner said in a statement. He criticized directors for voting to expand the board to 15 members in the midst of the negotiations, terming the move "a cynical attempt to preserve power."
The airline "already was tracking weaker revenue and profit in the second half of the year and trailing market rivals Delta Air Lines and American Airlines Group, even with the tremendous continuing windfall from lower fuel expense," Gimme Credit analyst Vicki Bryan said in a report.
United said the investor group refused to make its nominees available to be interviewed, a necessary step before the airline would recommend any of the candidates to shareholders. The slate includes Gerstner, former Delphi Automotive CEO Rodney O'Neal and Barney Harford, a former CEO of travel-booking site Orbitz.
'Hostile Action'
The airline is disappointed that "PAR and Altimeter have unilaterally taken this hostile action with no concern that a proxy fight could distract the company from executing on Oscar's strategic plan," Meyer said in a statement. Munoz in a note to employees praised Bethune's role at Continental as a template for improving United's culture and customer relations.
"However, PAR and Altimeter aren't just advocating appointing Gordon to the board," Munoz wrote. "They are nominating six director candidates, which we believe is designed to put their nominees in control of the board and our company's future."
United fell 2.2 percent to $56.34 at the close in New York, leaving the stock down 15 percent for the past 12 months.
Friday is the deadline to nominate directors, a reason why the disagreement burst into public view. There is still a chance the two sides may reach an agreement, Bethune said.
Recruiting Munoz
The activist-backed slate isn't targeting United's CEO, said Bethune, who recruited Munoz and Meyer to Continental's board more than a decade ago. The CEO will return to his duties next week after having a heart transplant at the beginning of this year, United said over the weekend.
"This isn't anti-United. There's certainly nothing wrong with the people at United," Bethune said. "There's certainly something wrong with an entrenched board."
Bethune, a pilot, first gained aircraft experience as a mechanic and joined Continental in 1994, which was spiraling downward a year after it exited bankruptcy protection. He helped reverse course by improving on-time performance and service to win back business travelers and renegotiating labor and jetliner contracts to put the airline's costs below those of its rivals. In his 1998 book "From Worst to First," he referred to a toxic atmosphere that pervaded Continental before he arrived.
"This was a crummy place to work," he wrote, describing a culture of "backbiting, mistrust, fear and loathing." His 2004 departure from the Houston-based earlier was earlier than originally planned, after he clashed with a major Continental investor and board member, David Bonderman of buyout firm Texas Pacific Group.
Offering Counsel
Bethune said he was one of the first people Munoz called after being named CEO in September and cut short a vacation in Croatia to fly to Chicago to provide counsel on how best to tackle entrenched labor and operations shortfalls.
His intent, in joining forces with the funds, isn't to spawn further chaos at United. "I won't stay for more than two years. I really am getting too old to do this," Bethune said. "But I want to help the people who are my friends, who are the employees."
Before it's here, it's on the Bloomberg Terminal.
LEARN MORE