Photographer: Tomohiro Ohsumi/Bloomberg
No Consolation for Abe in Revised GDP Confirming Contraction
by
Japan's economy contracted in the final quarter of 2015, according to revised government data that underscores growing concern that Prime Minister Shinzo Abe's reflation program is falling short of expectations.
The gross domestic product shrank an annualized 1.1 percent in the three months ended Dec. 31, better than the 1.4 percent contraction reported last month, according to revised data from the Cabinet Office released Tuesday. The median forecast of 29 economists surveyed by Bloomberg was for a 1.5 percent contraction.
The slightly less shallow contraction was affected by a modest upward revision in business spending and inventories, and came before turmoil erupted in global markets this year. That has pushed the yen 6 percent higher in 2016, threatening to hurt exporters' profits and dimming the outlook for corporate spending.
"It's better than expected but this doesn't change the whole picture of Japan's anemic recovery. Japan's economy really doesn't have any leading power with primarily consumer spending dragging growth," said Takashi Shiono, an economist at Credit Suisse Group AG, who had correctly predicted the annualized GDP number. "I expect some rebound this quarter but it's not going to be an impressive one."
Other economists aren't so positive, with HSBC's Izumi Devalier saying that a contraction in the three months ending March 31 is "probable." "There's no real sign that economic momentum is picking up in the first quarter," she said on Bloomberg Television after revised report was released.
The economy will shrink again, according to Bloomberg's GDP tracker, which forecasts a contraction of 1.21 percent. If that happened, it would be the second technical recession since Abe returned to office in December 2012.
Companies' Concerns
The slowdown in China -- Japan's largest trading partner -- and the appreciation in the currency are concerns for companies and may erode their record profits. Panasonic Corp. cut its profit forecast for the year ending in March as sales of products including air conditioners fell in China. Hitachi Ltd. reduced its full-year profit forecast on slower sales of construction machinery in China and reduced demand from oil-producing nations hurt by falling energy prices.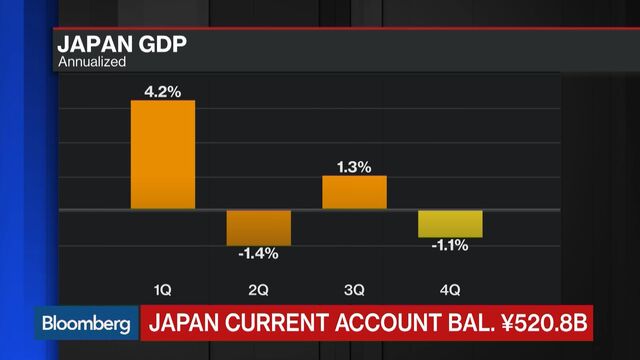 Investors sometimes have been led astray by GDP data in Japan. Initial gross domestic product data showed Japan falling into a recession in the third quarter of 2015 before being revised to show expansion.
The contraction was the fifth since Abe returned as prime minister. The economy's performance has see-sawed over the past three years, even as BOJ Governor Haruhiko Kuroda has ratcheted up monetary easing in concert with Abe's efforts to spur higher wages, consumer spending and investment.
Government reports for January showed declines in exports and household spending, adding to signals that the economy may be struggling to recover this quarter.
Tuesday's revised GDP figures also show that:
Business spending rose 1.5 percent in the fourth quarter from the previous three months, compared with the 1.4 percent gain initially estimated.
Private inventories didn't add or subtract from growth, better than the 0.1 percentage point drop initially thought.
Private consumption declined 0.9 percent, compared with a preliminary 0.8 percent decline.
Before it's here, it's on the Bloomberg Terminal.
LEARN MORE