Porsche, Tag Heuer Join Nike in Suspending Sharapova Ties
Rachel Chang, Matt Townsend and Tariq Panja
Sponsors review relationship after tennis star fails drug test

Nike deal said to be worth $70 million over eight years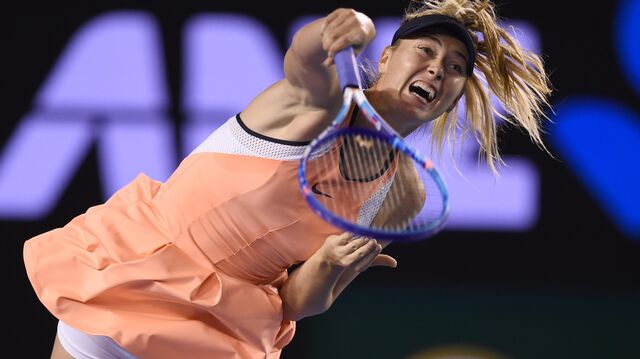 Luxury watch-maker TAG Heuer and German sports-car brand Porsche joined Nike Inc. in suspending their relationship with Maria Sharapova after the world's highest-paid female athlete admitted to failing a drug test.
Russia's Sharapova, considered one of the best female tennis players of her generation, said in a news conference Monday in Los Angeles that she had been taking meldonium for health reasons for a decade and had not noticed when it was banned by the World Anti-Doping Agency as of Jan. 1. She has been provisionally suspended by the International Tennis Federation effective March 12.
Failing the test led Nike, which has worked with Sharapova for more than a decade, to suspend its relationship with the 28-year-old, said spokesman Kejuan Wilkins. The test result could cost Sharapova a spot at the Rio 2016 Olympics, the $298,000 she won in January at the Australian Open, and more in endorsement deals.

"Nike has fanned the flames and other sponsors will be considering their position," Nigel Currie, the founder of sports marketing agency NC Partnership, said by e-mail. "There are very few female athletes who are recognized in every country, but she is one of them which makes her very attractive to global brands."
Nike, the world's largest sporting-goods company, is "saddened and surprised" by the news, Wilkins said. Sharapova's 2010 deal with the sportswear maker was said to be worth $70 million over eight years, a person with knowledge of the contract said at the time.
Porsche, Evian, Amex
LVMH-owned TAG Heuer, which Sharapova has represented since at least 2005, said it's suspending negotiations to renew a contract with the athlete that expired in December. The watchmaker also took down Sharapova's ambassador page from its website.
Volkswagen AG-owned Porsche, for which the tennis player had been brand ambassador since 2013, said it's postponing planned activities until further details are released. Danone, owner of Evian bottled water, said it's surprised and will follow developments closely.
American Express Co., which hired Sharapova as their "face of the US Open" last year, said in an e-mail that "there's no planned work with her for this year."
"She had already fulfilled all the mutual terms of our contract with her and it was not renewed in 2016," said Amex spokeswoman Amy Marino, who declined to comment on when the decision was made. 
Ranked No. 7 by the Women's Tennis Association, Sharapova earned $29.7 million in 2015, making her the most highly paid female athlete in the world, according to Forbes, and No. 26 overall, just ahead of Arizona Cardinals quarterback Carson Palmer.
Just 23 percent of her prize money came from tennis winnings -- the other $23 million was earned from endorsements from companies including Avon Products Inc.
A handful of athletes, including a Russian cyclist and six Georgian wrestlers, have tested positive for meldonium this year. According to International Tennis Federation Rules, a positive drug test at the event "automatically leads to disqualification of the results obtained by the player," including loss of titles and prize money.
Before it's here, it's on the Bloomberg Terminal.
LEARN MORE